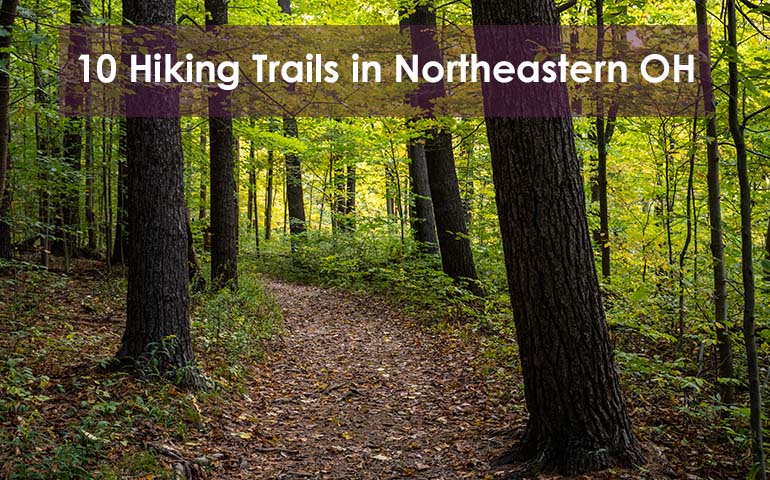 10 Hiking Trails in Northeastern Ohio
There are two types of people in this world. Numero uno: you're #SaltLife. You like nothing better than the feel of warm sand between your toes, lying on a beach towel with a dry martini, and gazing at the ocean tide with a primordial longing, as if called back to the place where life itself began. Then there's numero two-o: You can think of nothing more refreshing than the first gasp of cool mountain air, channeling your inner Edmund Hillary as you strive to conquer vertiginousness heights as of yet unseen, and find inner peace in woodland solitude. Maybe you like a little of both. However, if your tastes happen to lean more toward the latter than the former, this list is for you! So, let's take a look at the 10 most popular or well-liked hiking trails just minutes from wherever you are in Northeastern, OH. Okay, I might be exaggerating a little bit there.

Brandywine Falls-Cuyahoga Valley National Park (Bath)- You couldn't have a national list of Best Hiking Trails without including this, let alone a regional one. There are over 125 miles of hiking! With some of the most stunning rock formations, waterfalls, wetlands, and fields, you'll forget you're only minutes from Akron, OH. For a quick day hike, check out Brandywine Falls, a truly breathtaking sight.

Mill Creek Park (Youngstown)- With 15 miles of walking trails, Mill Creek Park has something for seasoned hikers/walkers and for those just looking for a casual scenic stroll. Waterfalls, captivating bridges, and of course, the old gris mill make for a lovely day in the country, just minutes from Youngstown!

Squire's Castle Trailhead (Willoughby Hills)- Want to see what it's like to hike across the foggy moors of Scotland without leaving home? This trail might convince you you're doing just that. With scenic wetlands, idyllic foliage, and a view of an old stone castle.

The Ledges Trail- Cuyahoga Valley National Park (Peninsula)- A super easy hike, this trail is most known for its almost Megalithic boulders and natural rock walls. Another highlight is the beautiful view of the Cuyahoga Valley, surely an inspiration for nature photographers and painters alike.

Dundee Falls (Dundee)- Need an easy day hike location for the whole family? Try Dundee Falls, in the heart of Amish Country, minutes from Sugarcreek, OH. Take the hike in the Spring for the best view of the namesake falls.

The Ohio and Erie Towpath Trail (Cleveland, Massillon/Bolivar/Zoar)- With multiple access points, the in-progress Ohio and Erie Towpath Trail runs through Cuyahoga, Summit, Stark, and Tuscarawas Counties, giving hikers a diverse range of scenery.

Hitchcock Woods (Boardman)- With a name like 'Hitchcock,' my mind immediately began compiling all the scenarios that could go down within its woods, admittedly 95% of them involving being caught up in a murder plot. Fret not, thriller fans! This park has nothing to do with Alfred Hitchcock and everything to do with a quiet, easy hike through relatively-level woodland. It's a short loop though so more experienced hikers might not find it worth driving too far to explore.

Black River Reservation (Elyria)- Nearly 7 miles of hiking and biking in Lorraine County, with beautiful views of The Black River, which runs perpendicular to the main trail.

Blue Hen Falls- Cuyahoga Valley National Park (Boston)- Another lovely hiking trail part of the Greater Cleveland Metroparks trail system and Cuyahoga Valley National Park. A 15-foot waterfall makes for incredible site seeing all year. The 3-mile round trip from the Boston Mill Visitor Center, features a steep change in elevation. This trail is not for the faint of heart!

Fort Hill Earthworks Trail (Cleveland)- Get the feeling of being away from it all, while still remaining in the Greater Cleveland area. The trail is slightly over 4.5 miles and looping. It's a popular respite for hikers, bikers, and bird watchers. Though, a quick look at Google Reviews indicate it can be a wet and muddy trail at times, so dress accordingly.