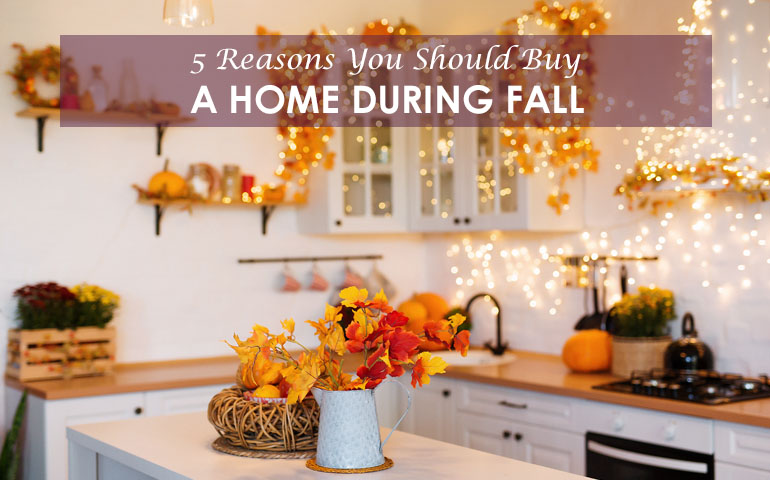 5 Reasons You Should Buy A Home During Fall
From crisp, cooler mornings and evenings to the aromas of hot apple cider and pumpkin-spiced goodies all around, fall is here! With this bright and beautiful season comes an awesome time for serious home buyers to find their future homes. Here are a few reasons why buying a home in the fall is a great decision!

The "School-Year" Rush is Over

You've probably heard about the mad rush for families to settle into their new homes before new school years start. Well, the good news for fall buyers is that those families already are settled in, which pretty much eliminates them from the pool of competing buyers!

Fall is a Beautiful Time to Browse

Searching for a home in summer can be a hot, sticky situation. Now that the fall weather has set in, attending showings and open houses gets to be a little more comfortable. Not to mention the fact that fall's colors lend themselves to some pretty beautiful sights. So, if curb appeal is on your must-have list, you'll really enjoy what Mother Nature adds to homes in fall.

Fall Sellers ARE Motivated

Whether they've had their homes listed since spring or summer, they're preparing to relocate or they've recently built a new home, sellers whose homes are on the market in fall typically have strong motivations to get their homes sold. Of course, these motivations often work in favor of buyers, translating to lower accepted offers and sometimes shorter closing periods!

Fall Buyers Get to Celebrate the Holidays in a New Home

After the closing process is over in fall, you're in possession of your new keys and you've got your belongings in place; so, it's time to celebrate! And, we're not just talking about the fact that you've just bought a new home. When you buy a home in fall, Thanksgiving and all other winter holidays are right around the corner. You can look forward to celebrating and entertaining in your new space for the entire holiday season.

More Personal Attention

We're not going to lie about it --the real estate market can be a bit flooded during spring and summer months. So, everyone involved in the process, from real estate agents to mortgage lenders to inspectors to appraisers, movers and more, sometimes are booked up during that peak season. When it comes to fall, the market does slow down just a bit, so these essential service providers often have more time to devote to fall buyers.

Are you ready to fall in love with a new home this fall? Let us help! Start searching homes for sale today and let your home-buying fun begin!