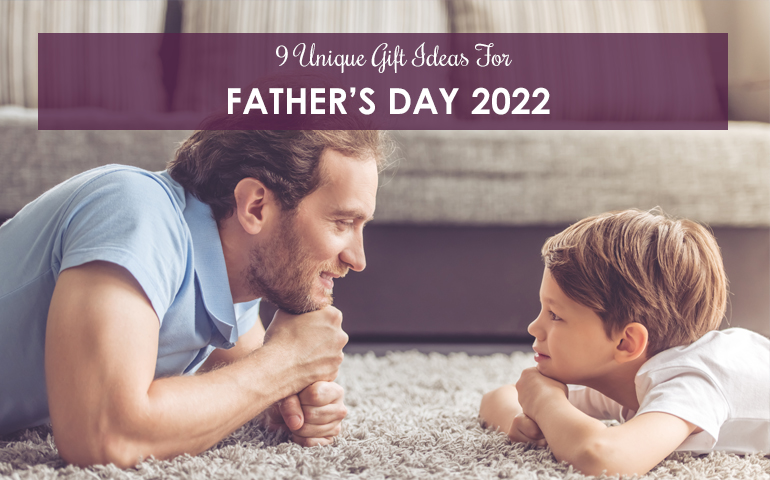 9 Unique Gift Ideas For Father's Day
Father's Day is this Sunday, June 19th, and if you haven't purchased a special gift for your dad just yet, don't worry we have you covered! Check out our list of Father's Day gift ideas. You'll be sure to find something that he will love!
Outdoor Ping Pong Table
Step up family game night with a Foldable Outdoor Ping Pong Table. The foldable design makes it easy for storing and traveling. Click here to purchase.
Kabob Grilling Baskets
What's a dad without a grill? Check out these Kabob Grilling Baskets that are a must for your beloved Grill-Master. Made from steel wire and topped with a hardwood handle, each basket allows your dad to prepare separate dishes for vegetarians, or to suit the preference of each guest. There's no need to use a skewer, and the basket design makes for easy flipping. Click here to purchase.
Sonic Handheld Massage Gun
Think your dad could use some stress relief? A massage gun is sure to do the trick. Made to relieve sore muscles and stiffness, the Sonic handheld massager is designed to send waves of relaxation and relief throughout the body. Click here to purchase.
MasterClass
What is something that dad has always wanted to learn? How to cook? Dog training? Chess? Give him access to hundreds of classes with MasterClass. Try taking a class with him to make it extra special! Click here to purchase.
Genetic Ethnicity Test
Give your dad a look into his family history through a Genetic Ethnicity Test. Simply activate his DNA kit online and return his saliva sample in the prepaid package to our state-of-the-art lab. In roughly six to eight weeks, his results will be ready online! Click here to buy. Click here to purchase.
Flavors Of The World Hot Sauce Sampler
Does your dad love spice? Let him travel the world with this set of 30 international hot sauces. Try them together and rank your favorites. Click here to purchase.
Custom Pet Portrait
For the dad who loves his pet just as much as his children, get him a custom animal portrait from an artist on Etsy! Click here to purchase.
Scratch-Off Movie Poster
Endless family movie nights? Yes please! A scratch-off movie poster will have you never stumped on what to watch. From Casablanca to Jaws, your family has already seen some of the classics and blockbusters. Grab the popcorn and take a deeper dive into movie magic with this poster that invites you to screen 100 iconic films. Click here to purchase.
W&P Cocktail Kit To Go
Become a pro mixologist wherever you are with the W&P Cocktail Kit. The original Cocktail Kit contains all the ingredients needed to create 2 top-shelf Old Fashioned cocktails wherever- just grab the spirit of choice and mix it up. Click here to purchase.
No matter what you end up buying, your dad will be sure to love whatever thoughtful gift you pick! If you're struggling to find the best gift, take a look back at our list for ideas. Berkshire Hathaway HomeServices Stouffer Realty wishes you all a very happy and healthy Father's Day!