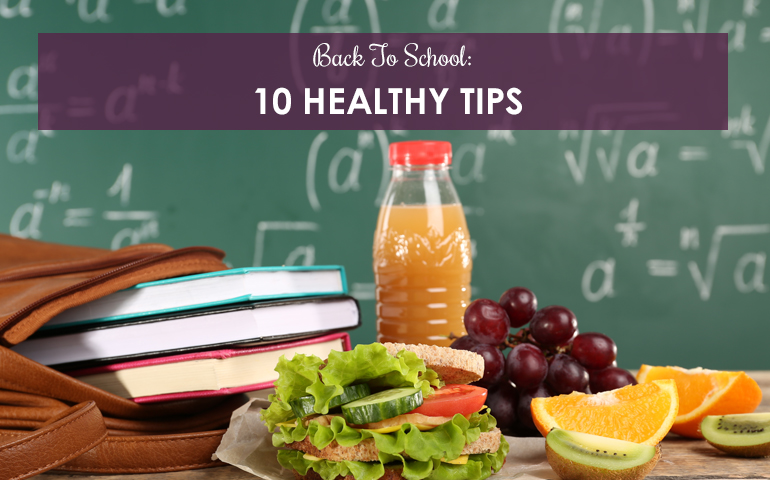 Back To School: 10 Healthy Tips
Can you believe it is almost time for your children to start school again?
After a crazy year of uncertainty, children are headed back into school which may make you feel a little uneasy. Getting your kids back-to-school ready involves more than shopping for school supplies and new clothes. Caring for their health will ensure they are physically and mentally prepared to go back to school. To kick-start the new school year, consider these healthy tips.
Teach Good Hygiene Habits
The most effective way to avoid spreading germs is proper handwashing. Encouraging your kids to sing the alphabet song from beginning to end will teach them how much time should be spent on this task. Show them how to properly wash their hands -- fronts and back, in between fingers and underneath fingernails.
Give them a travel bottle of hand sanitizer to stay clean when they can't get to a sink.
Don't have a tissue? Teach your kids to cough and sneeze into their elbow to limit the amount of germs being spread.
Be sure to do these things around the house in front of your children to help them get into a routine before school starts back up again.
Visit the Doctors Office
An annual check-up will ensure your kids are healthy and virus-free before heading back to school. Although COVID immunizations aren't available for children under a certain age yet, it is important to make sure their general immunizations are up to date.
Get Back Into The Routine
It's that time of the year! It's time to shift from your child's summer bed time to their school-year bedtime routine. We suggest doing this at least a week or two before school starts so they get used to it. This is also a good time to cut back on playing electronic games and watching TV before bed.

Provide Healthy Meals
Provide healthy meal options for your kids, including breakfast! The right foods combined with adequate rest will help fight off infections and keep your children energized all day long. Check out Pinterest for some healthy lunch options that will be sure to put a smile on your childs face.
Stay Hydrated
Keeping your kids hydrated with healthy drink choices like water and milk has many benefits. It will help prevent fatigue, improve mood, aid digestion and maintenance, and enhance brain function.
Stay Active
Your children have probably been active all summer, and it's important to keep them moving. Children typically sit most of their school day, so incorporating sports and exercise into their daily routine will keep them focused, improve behavior and boost positive attitude.If possible, enroll your kids in after-school activities. Enjoy a family walk or bike right and encourage them to keep moving.
Mask Up
As of mid July, the Center of Disease Control (CDC) encourages all teachers, staff, students and visitors in school to wear masks indoors, regardless of vaccination status. To keep your children safe, we recommend sending your children off to school with multiple masks and hand sanitizer.
As the first day back to school quickly approaches, it's important to ensure your children are staying safe and healthy. Consider implementing these tips into your routine to ease your mind.
Berkshire Hathaway HomeServices Stouffer Realty wishes you and your children a safe and healthy school year!