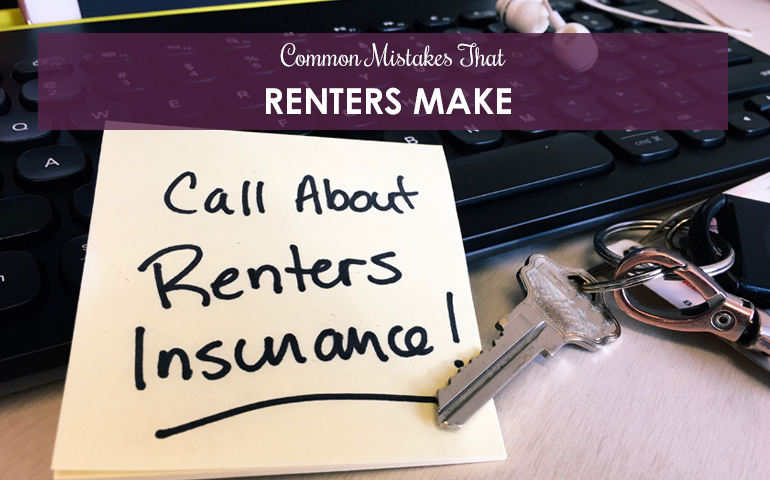 Common Mistakes Renters Make
As college graduation season is in full swing, many new grads are moving back home or looking for an apartment in a new city. Apartment hunting is an exciting experience, but many new renters can be overwhelmed with the process. Rent may be one of their largest expenses, so choosing the right apartment is extremely important. Here's a look at some of the most common mistakes new renters make and how to avoid them before moving in!
Renting Sight Unseen
One of the biggest mistakes a new renter can make is signing a lease before seeing the place in person. Unfortunately, due to Covid-19 many landlords have been taking advantage of online or virtual showings. Although this is a safe alternative due to the circumstances, signing a lease without seeing it in person first can be quite deceiving. Think about it this way, pictures and videos can make an apartment unit look great, but in person you may notice certain odors, a lack of certain amenities, poor security, unwelcome pests, ect. Visiting the apartment in person is extremely important to ensure you are getting exactly what you pay for.
Another reason to visit the rental property in person is meeting your potential landlord. This is a perfect time to ask all the questions you may have about the rental property, lease agreement and parking. If you can think of any possible renovations for the apartment, you can ask the landlord if they would be willing to complete those for you upon moving in. You can also get a general idea of how your landlord runs his/her property based on their personality and attitude during the meeting.
Failing to Document Apartment's Condition
Most landlords or rental management companies document pre-existing damage from past tenants after they move, but it is important that you also document the apartment's condition. Taking pictures and videos of the apartment before you move in will help you if there are any later disputes over the apartment's condition. Documenting the property will ensure that you will not be liable for any damages that were already there. Upon move-out, clean out the apartment, fix any holes in the walls from decor and scrub down the appliances. This way, the landlord has absolutely no reason to withhold your security deposit.
Skipping Renters Insurance
When signing your lease, many landlords will ask for proof of renters insurance although it is not necessarily required. Even if your landlord does not require you to get renters insurance, you still should! Renters insurance will cover your belongings if they get stolen or destroyed in a fire or flood. You can purchase a renters insurance plan from any insurance agency, typically for an inexpensive cost. Although it may sound expensive, a renters insurance plan is a lot cheaper than the cost of damage a disaster may cause!
Check Out the Neighborhood
The last thing you want to do is sign a lease in a neighborhood you are unfamiliar with. Before signing your lease take a walk around the neighborhood and get a feel for the community. Talk to some of your potential neighbors and ask questions about the area. Walk into some local businesses and get as familiar with the area as possible. When it comes to checking the safety of a neighborhood, check out a website like spotcrime.com. Crime tracking websites analyze crime trends in your area and allow you to search for crime near your address. The more you know before you move in the better!
Not Reading the Lease
This may sound pretty self explanatory, but read your lease before agreeing to live anywhere! Regardless of how rushed you are to find an apartment, don't sign a lease if something doesn't feel right. One example: does the fine print stipulate that you have to pay for laundry or parking? Or is it included in the rent price? We suggest taking the document home and having a friend or family member who has more renting experience than you, read it over. To make sure the lease doesn't violate your tenant rights, check out the Department of Housing and Urban Development's website, which provides a state-by-state list of what's legal and what is not. Make sure to discuss the details you want clarification on with your landlord before signing the lease.
Whether you're renting your first apartment or you're a rental veteran, it is important to avoid these potential pitfalls. Renting can be a wonderful experience as long as you are knowledgeable and prepared!