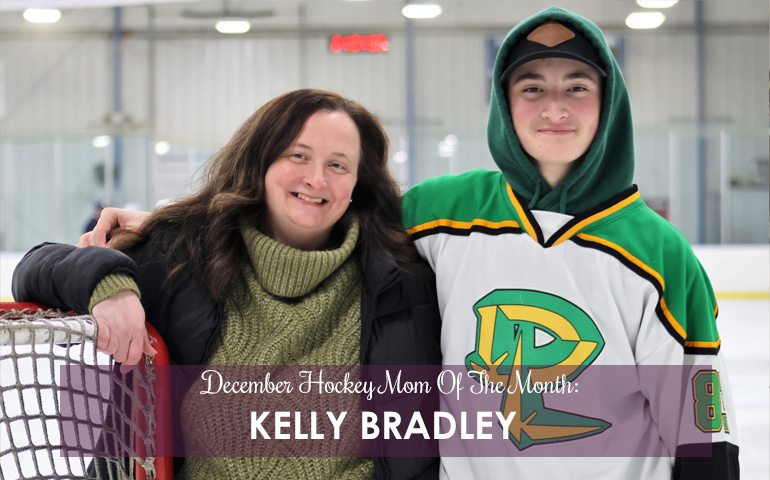 Congratulations To Our December Hockey Mom Of The Month: Kelly Bradley
Congratulations to our December Hockey Mom Of The Month, Kelly Bradley from Cheswick, Pennsylvania.
Kelly Bradley is truly an inspiration for all hockey moms. Despite being a single mother and having a full-time job, Kelly still finds time to volunteer at various rinks and organizations to help children in Western Pennsylvania have opportunities to play ice hockey. She is the team manager for both the Deer Lakes High School varsity team and the Pittsburgh Predators travel team. Additionally, she is the Fundraising Director on the Board of Directors for the Steel City Ice Renegades, even though her son Jacob has moved on from that team. She puts in long hours scheduling tournaments, booking hotel rooms, manning score sheets, operating the game clock, and coordinating games. She manages to do all of this while also working a full-time job as a paralegal for ServiceLink.
Kelly Bradley's commitment to the youth of Western Pennsylvania is admirable, and she is truly an inspiration for all hockey moms across the country. Her dedication and hard work are a testament to the power of volunteering and how it can benefit the youth in our community. Thank you, Kelly Bradley, for all that you do for our children in Western Pennsylvania!
Congratulations again to our Berkshire Hathaway HomeServices Stouffer Realty December Hockey Mom of the Month, Kelly Bradley. Kelly will be recognized with her family at the Pittsburgh Penguins game at PPG Paints Arena on December 22nd.
Do you know an amazing hockey mom? Nominate her to be our next winner at www.PittsburghPenguins.com/HockeyMoms.