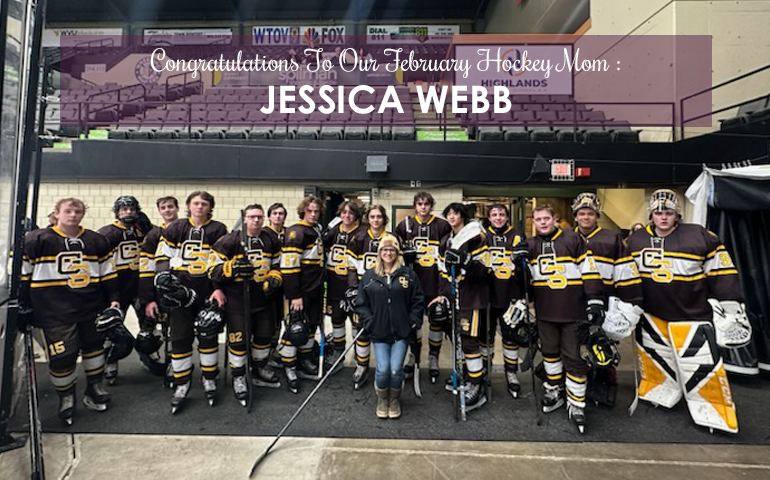 Congratulations To Our February Hockey Mom
Congratulations to our Berkshire Hathaway HomeServices Stouffer Realty's February Hockey Mom, Michelle Hinds from Oakdale, PA.
Michelle currently volunteers her time to assist both the Chartiers Valley Hockey Club and the Mt. Lebanon Hornets organization that her son Luke plays for. Over the past few years, Michelle has dedicated her time to a variety of different roles in both organizations. She has been the business manager for Luke's Hornets Amateur team for the past three years. Some of her duties as Business Manager include coordinating the families' travel arrangements, scheduling tournaments and organizing regular season games. At Chartiers Valley, she is known as the "Energizer Bunny!" She is in her second year of being on the Board of Directors, as well as volunteering as the organization's Registrar for the Middle School, Junior Varsity and Varsity teams. In addition, she is involved in planning and executing the team's special events including Senior Night, banquets and Fan Nights.
When she's not volunteering, Michelle works full-time as a Civil Engineer and manages a staff of 40 public infrastructure inspectors. Located in Southwestern, PA, her job includes inspecting highway construction, bridge rehabilitation and many other projects. Michelle was honored by the Pennsylvania Professional Engineers Organization with the Young Engineer of the Year Award for her professionalism and dedication to her job.
Congratulations again to our Berkshire Hathaway HomeServices Stouffer Realty February Hockey Mom Of The Month, Michelle Hinds. Michelle will be recognized as the winner at the Pittsburgh Penguins game at PPG Paints Arena on February 26th.
It's leaders like Michelle that make our community a better place to live and for this we say, THANK YOU!
Do you know an amazing hockey mom? Nominate her to be our next winner at www.PittsburghPenguins.com/HockeyMoms.