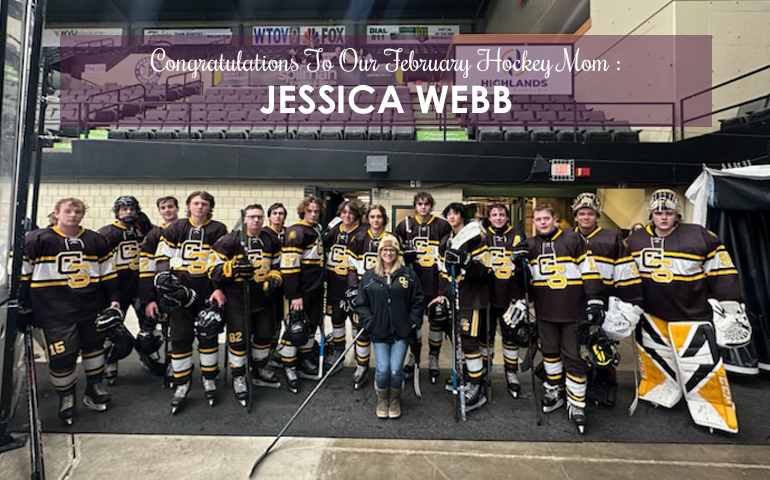 Congratulations To Our February Hockey Mom: Jessica Webb
We are pleased to announce that Jessica Webb from Greensburg is the winner of the February Hockey Mom award for the 2022-2023 Pittsburgh Penguins hockey season! Jessica is a force to be reckoned with in her community and beyond, as she juggles her roles as a full-time nurse, a hockey mom, and the President of the Greensburg-Salem High School Hockey Club, a role that she has held for the past 3 years.

Jessica's hockey-centric family has been very supportive of her busy schedule! Her son, Hunter (17), plays for the GS Lions Varsity team and her daughter, Brylee (13) plays for the GS Middle School Team. Both children also play travel hockey for the Allegheny Badgers on the weekends, with Brylee playing for a co-ed and girls' team. Her husband of 15 years, Miles, is also a hockey coach in the organization.

As the President of the Greensburg-Salem High School Hockey Club (ages 5-18), Jessica has made it her mission to make hockey accessible to any student who wants to lace up some skates. Before acting as the President, Jessica sat on the board for GS Hockey as the Ways & Means Chair for 10 years, where she was in charge of the organization's fundraising efforts. Whether selling tickets or hosting charity events, she wanted to make sure every kid and parent could participate in the sport!

When she isn't running around as a hockey mom, you can find her working full-time as a nurse for the UPMC Health Plan Insurance as a supervisor in the Clinical Operations Utilization Management Department where she oversees 32 nurses. In addition, she is currently working towards finishing her Master of Science in Nursing Administration and Leadership through Capella University.

Regardless of Jessica's packed schedule, her main priority has always been her family. In 2020, Jessica's Aunt Jackie was in dire need of a kidney transplant. Jessica's mom had planned on donating her kidney but was diagnosed with breast cancer while being tested as a donor. Jessica stepped up as a hero and donated her left kidney to save her Aunt Jackie's life.

Her commitment and dedication to her family, friends, and the hockey community are why Jessica has been chosen as our Berkshire Hathaway HomeServices Stouffer Realty February Hockey Mom. Jessica will be recognized with her family at the Pittsburgh Penguins game at PPG Paints Arena on Sunday, February 26th.

Do you know an amazing hockey mom? Nominate her to be our next winner at www.PittsburghPenguins.com/HockeyMoms.