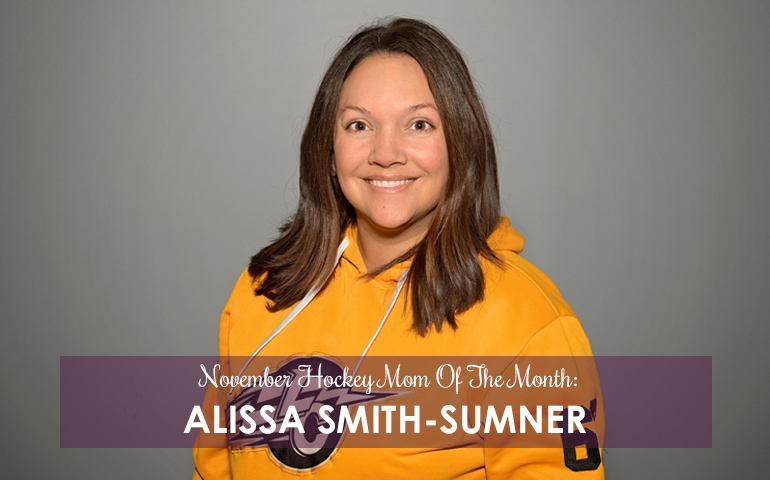 Congratulations To Our November Hockey Mom Of The Month
Congratulations to Alissa Smith-Sumner from New Castle, our first Hockey Mom winner for the 2022-2023 Pittsburgh Penguins hockey season! Alissa not only dedicates her time and talents to the local hockey organization, but also to her husband, Dan, and their five children. Two of her children play ice hockey for the Lawrence County Lightning organization, playing out of the Hess Ice Arena in New Castle. Her oldest son, Asher, plays for one of the LCL peewee teams and her younger son, Axton, plays for one of their mite teams.

For the past several years, Alissa has worked tirelessly as the team manager for Asher's hockey teams. As the team manager, she is responsible for building the team's roster for each game and coordinating with the team parents to work the scoring table, official game clock and the penalty box. This is just the beginning of her duties! Alissa is most passionate about the fundraising work she does for the team. She loves giving back to her hockey community by organizing and hosting fundraising events to help families with the financial burden. Most recently, Alissa organized a fundraiser to help pay for custom Veterans' Day Tournament jerseys –red, white and blue of course!

When she isn't busy at the rink, you can find Alissa at Neshannock Junior and Senior High School teaching Mathematics. She has been with the school district for over 20 years! Alissa has been a true role model to her children, students and the Lawrence County hockey community.

Congratulations again to our Berkshire Hathaway HomeServices Stouffer Realty November Hockey Mom of the Month, Alissa Smith-Sumner. Alissa will be recognized with her family at the Pittsburgh Penguins game at PPG Paints Arena on November 26th.


Do you know an amazing hockey mom? Nominate her to be our next winner at www.PittsburghPenguins.com/HockeyMoms.