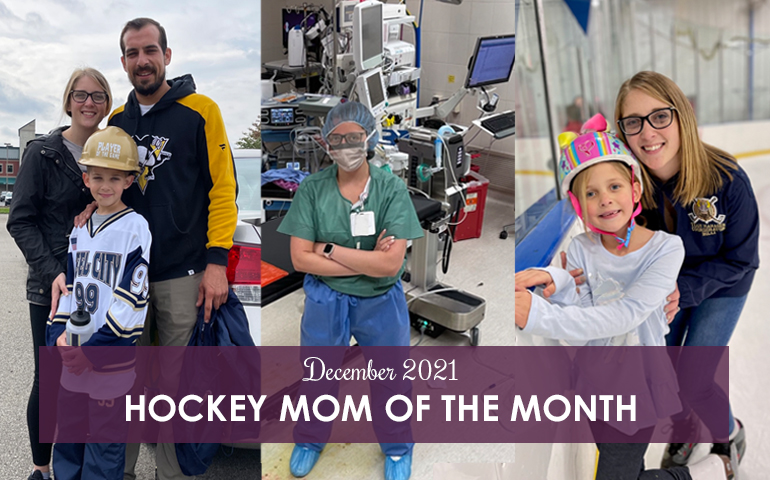 December 2021 Hockey Mom Of The Month
Congratulations to our Berkshire Hathaway HomeServices Stouffer Realty's December Hockey Mom Of The Month winner, Billi Marie Meli from Oakmont.
Billi Marie is mom to 10-year-old Carter and 7-year-old Mikaela and is engaged to be married in 2023 to her fiancé, Mike Wilden. In the past two months, Billi Marie received multiple nominations for our Hockey Mom Program. Billi is a "true-leader" in all that she does for Carter's hockey team and association, the hospital where she works and the school that she is currently attending.
Billi currently works full-time at UPMC's Children's Hospital of Pittsburgh while studying as a full-time student at the Shadyside School of Nursing. As if she wasn't busy enough, Billi still makes time to be a great mother! She manages to get Mikaela to figure skating practice; all while playing a HUGE role, not only for Carter's squirt team, but for the entire Steel City Ice Renegades (SCIR) Hockey Organization that is comprised of approximately 20 teams!
Over the past 4 years, Billi has served on the Steel City Ice Renegades Executive Board as Secretary and is currently the Registrar and Team Manager Coordinator for teams at all levels. She coordinates tryouts for all age divisions (8U-18U) and assists in selecting the teams for the Steel City Ice Renegades. She rosters all the teams for SCIR and ensures that all coaches have their required clearances.
At the Children's Hospital Billi co-coordinates the small bowel and intestinal transplants coming in from all over the world. In her free time, she volunteers as a Peer Mentor for the new nursing students, serving as a panelist during orientation. She also serves as the Class Representative where she deals with any issues that may come up between the teaching staff and her fellow classmates.
Congratulations again to our Berkshire Hathaway HomeServices Stouffer Realty December Hockey Mom Of The Month, Billi Marie Meli! Billi will be recognized as the winner at The Pittsburgh Penguins game at PPG Paints Arena on December 17th.
Do you know an amazing hockey mom? Nominate her to be our next winner at www.PittsburghPenguins.com/HockeyMoms.