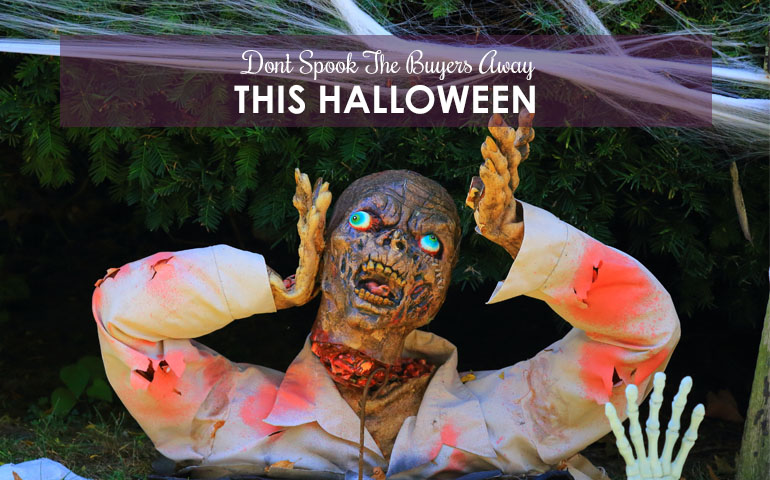 Don't Spook Buyers Away This Halloween
In the spirit of the Halloween holiday, we're taking a look into the spooky, eerie things about a home that will simply scare buyers away. No, we're not talking about properties that may be rumored to be haunted. Luckily, we're talking about simply scary things that are simple fixes for sellers!
Here are 10 things that will scare buyers away from a home:


1. Horrendously High Listing Prices: A high listing price can scare potential buyers away before they even glance at your listing photos. If you price yourself out of a potential buyer's market, there may be no way to get them back. Instead of setting your selling price too high from the start, work with a trusted real estate agent to set the right price.

2. Gloomy Listing Photos: When it comes to successfully showcasing your home for sale, bright listing photos are a must. Buyers want to see well-lit spacious rooms where they can envision their belongings. They don't want to see dark spaces where they don't think they'll be able to fit their belongings!

3. Creepy Curb Appeal: OK, so if buyers are coming by your home today, a few jack-o-lanterns and mums are perfectly acceptable, but you may want to put away those festive zombie decorations! What's not OK when it comes to curb appeal? Not mowing your lawn or trimming hedges. As the days continue to get shorter, you also want to make sure you have sufficient lighting around your home.

4. Spooky Clutter: When your home is on the market, you can't just open up your closet doors, throw in the laundry and hope for the best. If you're trying to sell your home, you've got to keep it in top condition. That means you may need to clean out those closets before you even take listing photos.

5. Frightening Family Photos: Speaking of photos that may clutter up your home, some of your favorite family photos may scare buyers away! There may be nothing frightening about your family, but buyers might find it a bit spooky to envision themselves in someone else's home. Removing family photos will help give buyers a clean palette to see themselves in their future home.

6. Uncanny Color Choices: Remember when you decided to put that bright blue accent wall in your bathroom? Or the chalkboard wall in your kitchen? When you put your home on the market, it is time to cover up those colorful paint choices. For the most part, buyers want to see neutral colors. They don't want to have to plan on correcting color mistakes when they move in.

7. Monstrously Misused Rooms: Though it may not be a deal breaker for all buyers, if you're using parts of your home in ways they were not intended, buyers may be unable to envision themselves in the home. For instance, it may have seemed like a great idea to put your treadmill in your dining room where you could clearly see a TV, but a potential buyer may not want to think about you working out where they would like to be entertaining guests.

8. Ferocious Four-Legged Friends: Even if you don't have a big dog or a black cat, not all buyers love the sights of your pets. In fact, pets leave behind hair, stains and odors that may send buyers off to search for another home! When your home is on the market, it is in your best interests to make it appear pet-free. This could even mean that your pets spend some time with other loving family members or friends.

9. Lurking Sellers: Just as buyers probably don't want to see your family photos around your home as they are browsing through, they definitely don't want to see you! Instead of watching buyers tour through your home, do yourself a favor and leave during showings and open houses. Trust your real estate agent to give you buyer feedback!

10. Not-So-Nice Neighbors: Don't get us wrong. If you've got friendly neighbors who are sure to smile and wave as buyers look at your home, that's great. But, neighbors who may offer negative comments or even ignore potential buyers could scare some away. No one wants to move into a neighborhood where they feel they won't be welcome. Instead of surprising neighbors with showings, give them a heads up, so they may be friendly when they see potential buyers.

Sure, these 10 things may give buyers a good scare when it comes to purchasing your home. But it doesn't have to be that way! Instead of giving your home grim chances of selling, cover up any creepiness to show your home in the best light!

If you would like some help preparing your home for sale, contact a spirited Berkshire Hathaway HomeServices Stouffer Realty real estate agent today. Happy Halloween!