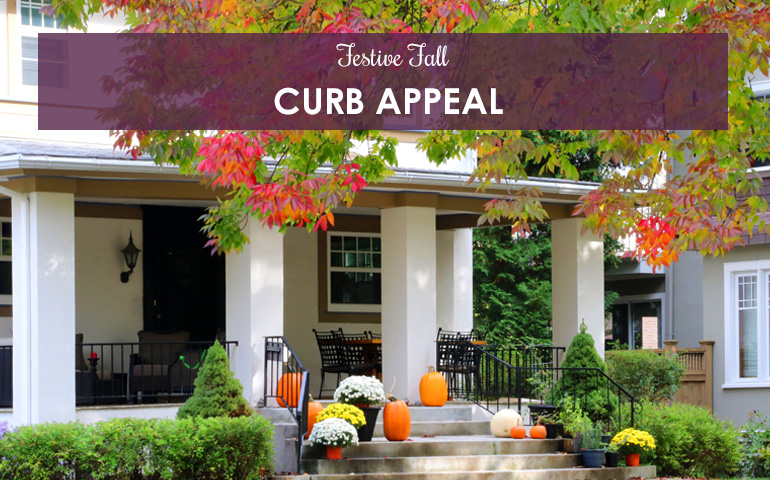 Festive Fall Curb Appeal
Fall is in the air and that means crisp nights, football and pumpkins, but fall can also be a great season to boost your curb appeal before the selling season! From planting flowers to cleaning the gutters, there are a ton of tasks to complete that will help spruce up your home for potential buyers.
Plant Fall Flowers
Now that your summer flowers are starting to fade, it is a great idea to invest in some fall flowers that will match the changing leaves. Mums are the best fall flowers you can plant because they typically bloom all the way through Thanksgiving. They are easy to maintain and do very well in the crisp weather. Mums come in beautiful oranges and yellows that will pair perfectly with your pumpkins. Buyers will love it!
Highlight Your Front Door
Your front door is the focal point of your home. September is a great time to add a fresh coat of paint to your door, you can even think about changing the color to a beautiful color that compliments your home as well as updates the curb appeal. Another great way to add a pop of color and beauty is to add a wreath with simple fall foliage. This will grab attention and instantly boost the curb appeal of your home.
Clean your Exterior
Now that the trees are losing their leaves, your home is more exposed than ever and will show spots of dirt and wear and tear. It is a good idea to power wash your home's exterior or add a fresh coat of paint.
Add Outdoor Lighting
The days are getting shorter and it's starting to get darker earlier. Fall is the perfect time to add outdoor lighting to your home. Outdoor lighting can brighten up your home up and make it appear more inviting. Try illuminating your walkways, installing floodlights, or lanterns to brighten up your entryways. You can also take this time to replace any dim or burned out bulbs.
Whether you are putting your home on the market or just want to boost your home's curb appeal, fall is a great season to spruce up your home! With these four easy tips, your home is sure to be the best looking on the street!