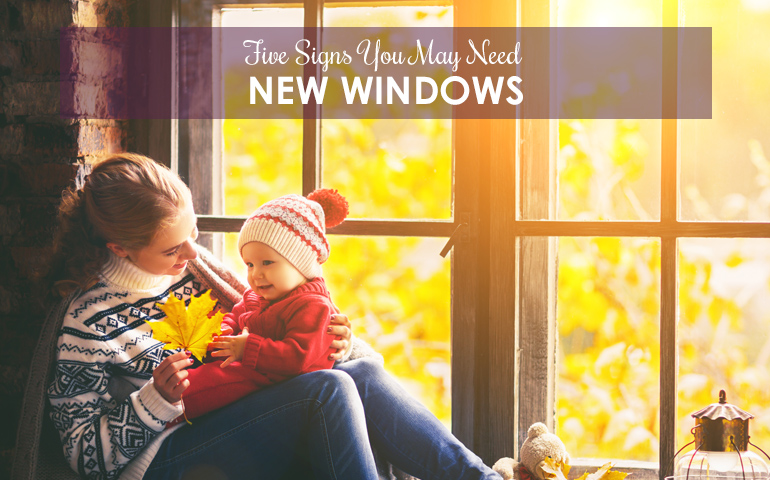 Five Signs You May Need New Windows
You may not want to hear this, but the cold weather is coming quicker than you think!
Before the cold temperatures hit, it is important to check if your home needs new windows. If it's been a while since you last replaced them, now might be the right time! Well-designed windows play a variety of important roles in improving your home's curb appeal, increasing the amount of natural light in your home, and improving energy efficiency.
Here are five signs it may be time to replace your windows:
High Energy Bills
Have you started to notice your home is not staying warm, or you walk close to your windows and feel a draft? This is a sign you might need new windows. If you have an older home or older windows, it's likely that much of the heat produced by your furnace and the cooling from your air conditioner is going to waste. While older windows are generally single-pane and vulnerable to leaks, newer windows are highly efficient and designed to help prevent air from transferring in and out of your home. If you have older windows, you should consider replacing the windows in your home with new double-pane windows. They will keep the cold air out and heat in on a cold day, greatly reducing your energy bills.
Damage
Cracks in your window frame can lead to several problems and the severity depends on the size of the crack and how long it exists before it is repaired. Some problems include air leaks, water leaks, and letting in small insects. Visible cracks also weaken the strength of your window. Having a crack or broken window can cause a lot of problems down the road. It is a good idea to replace them sooner rather than later to save money.
Window Operation
Have you noticed that your windows are harder to shut or won't stay open? Now is a great time to replace your windows if this is the case. If your windows require a bit of force and pressure to open, it's time to replace them. Wood windows can be particularly bad for this because they can warp over time or rot due to weather. Opening your windows should not be a chore or a source of exercise, they should open and close effortlessly.
Soundproofing
Living near a busy intersection or crowded neighborhood can be noisy, and a good set of windows can keep the noise to a minimum. If you have noticed the noise in your home being louder, a new set of windows could do the trick to keep some of the noise out. Newer windows will be double-pane and will do a better job of soundproofing your home than older windows.
Condensation
Do you frequently see fog or condensation building up in your windows? Not all condensation is bad, but if you do see condensation in between the two panes of glass, this is a sure sign that your windows' seals have failed and it's time to replace them before your windows get too leaky. Replacing these windows now will also help prevent future problems and damage.
If you have been thinking about replacing your windows, now is the time. Windows are a functional upgrade and whether you are simply trying to improve your home's appearance or save money on your energy bills, a window upgrade is sure to pay off.