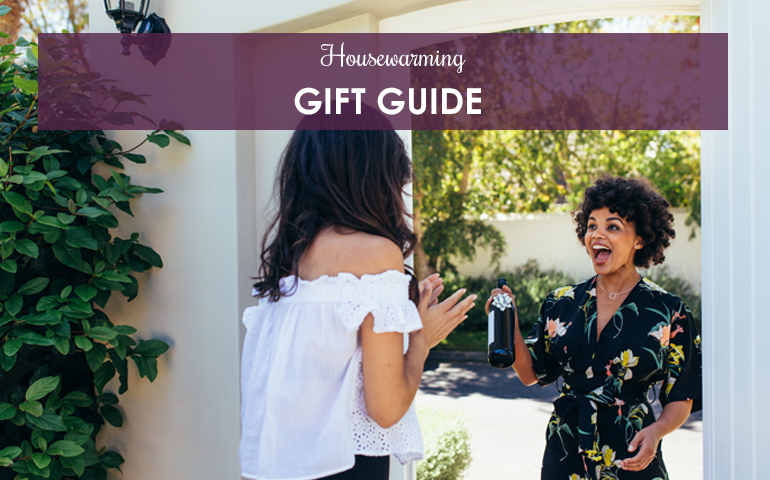 Housewarming Gift Guide
While it can be a stressful experience, moving to a new place is certainly worth celebrating. If you're hunting for the perfect housewarming gift for a special person in your life, you might be torn between personal and practical options. Luckily, there are tons of great gifts to purchase they will be sure to love. Find the perfect gift for that new homeowner in our gift guide here!

House Plants
A house plant is a great housewarming gift that will grow with the owner. Try gifting a Money Tree! Not only is this green plant resilient and pet-friendly, but legend says it welcomes wealth and fortune to anyone in its path. Choose from a cream, black, blush, mint, or terracotta planter to match their new home's aesthetic.
Engraved Cutting Board
Make them feel official with this engraved wooden cutting board, perfect for newlyweds or new homeowners. Add the year their love story started or the year they moved into their new home. This is the perfect gift that they will use every day when cooking and will be a wonderful addition to their new kitchen!
Essential Oil Diffuser
Give the gift of zen with a diffuser that can fill a home with any of their favorite scents. Pair it with a bundle of essential oils like eucalyptus or lavender to make the new space serene.
Nespresso Machine
For the coffee fanatic, gift a Nespresso Machine that can make all kinds of custom lattes! This is the perfect kitchen addition any coffee connoisseur will love!
Cheese Board
Perfect for wine and cheese nights, purchase a cheese board for a new homeowner! This gorgeous platter will become the new homeowners entertaining staple. For the ultimate gift set, pair it with cheese knives and markers.
Homesick Candles
For someone who has just moved away from home into a new house, purchase a Homesick Candle! These candles feature scents from different states that will remind them of home!
Dog Pillow
For the dog lover, purchase this custom "Reserved For The Dog" pillow. This will be a super cute addition to any couch or family room chair! It will even make a great photo opp when pictured with their dog!
Something Local
If your friend is moving to a new area, purchasing them a gift from a local farmer's market, restaurant or business may be a good idea! It is a great way for them to be introduced to local businesses around them.
Watering Can
A pretty watering can is one of those little luxuries you wouldn't necessarily buy for yourself, which means it's a great gift idea. Give it to your friend who takes their plants over to the sink to be watered!
A housewarming gift is something small and thoughtful that will mean a lot to your loved one who has just moved into a new home. Whether you purchase a plant that can grow with them in their new home or a cheese tray they can use when entertaining in their new space, the options are endless for a great housewarming gift!