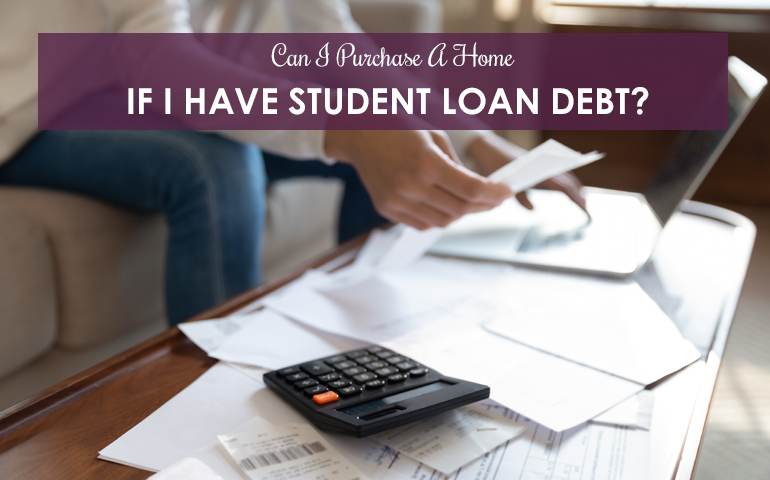 How To Purchase A Home If You Have Student Loan Debt
Many people who want to buy a home put it off until they can completely pay off their student loan debt. And while that is a responsible choice, it is not a necessity. As long as you do a thorough examination of your current debt, financial priorities, and maximize the following aspects of your finances, you can qualify for a home loan.
Improve Your Credit Score
The biggest thing financial institutions will look at when deciding whether to lend you money is your credit score. The good news is, your student loan debt may have even helped increase your score if you have been keeping up with the payments. Along with regularly checking your score to make sure there are no errors and fixing any problems you might find, use these following tips to maintain or increase your numbers.
Pay all bills in full before or on your due date.

Don't close old accounts. An account you have had for a while that is in good standing will help your credit. The longer your credit history and the older the average age of your accounts, the better your credit score.

Have a variety of credit accounts. Lenders like to see a mix of debt like credit cards, car payments, or student loans that prove you can manage different types of loans.
Keep Credit Utilization Low
Lenders will look at your monthly credit card spending against how much credit you have available. You want your credit utilization to be less than 30 percent, and under 10 percent is your ultimate goal. So if you have a $20,000 credit limit, $6,000 in debt is 30 percent of your limit. To decrease your percentage, you can ask your lender to increase your limit and you can pay toward your balance multiple times a month if you have the extra money.
Keep a Low Debt to Income Ratio
A debt-to-income ratio (DTI) is how much money you owe in student loans, personal loans, car loans, credit cards, etc., divided by your gross monthly income. Mortgage lenders use this to figure out whether you are a good candidate for a loan. Lenders will also include how much money you will need for your mortgage every month. However, your mortgage broker won't consider the money required for utilities, groceries, insurance, healthcare, childcare, etc. -- so, make sure you are including any of those costs within your own budget.
Apply for Pre-approval
Pre-approval from a lender can help you calculate the costs and down payment of purchasing a home. Mortgage companies will want to see your two-year employment history, credit history, income, and assets. Read more about the pre-approval process here.
Figure Out Your Down Payment Options
Research the options available to you or contact a reputable mortgage broker to see if you qualify for any federal or local programs. You may be able to take advantage of federal loan programs, even with your student loans. You may qualify for an FHA loan, which would mean a down payment of as little as 3.5 percent. An FHA loan is guaranteed by the U.S. Federal Housing Administration (FHA). Because of the government's guarantee, lenders are willing to make loans when they would otherwise not.
Many people think having the burden of student loans weigh them down will prevent them from buying a home. Luckily, that is not the case. Feel free to reach out to one of our agents at Berkshire Hathaway HomeServices Stouffer Realty to start your search for the perfect home!