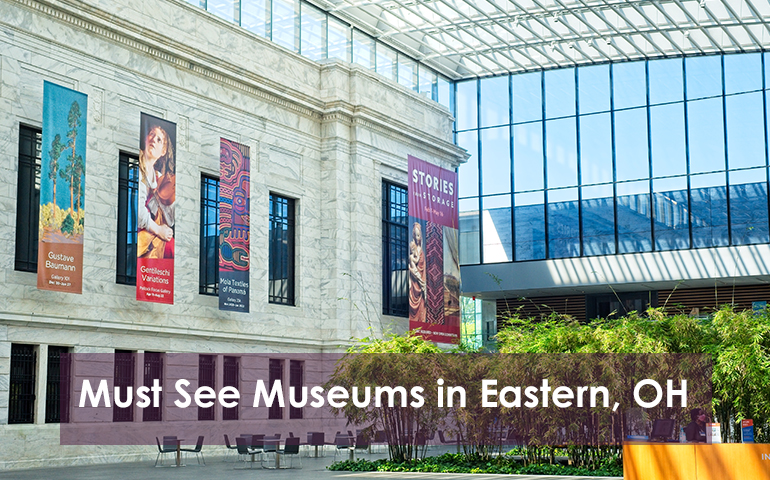 Must See Museums in Eastern, OH
If there's one thing that gets my nerdy blood pumping, it's a good museum. Plus, there are museums specializing in virtually everything. Visit the Mutter Museum in Philadelphia and you'll be both delighted and abhorred at the collection of antique surgical instruments and specimens, including a piece of noted Theoretical Physicist Albert Einstein's brain. In Middleton, Wisconsin, you can spend your afternoon reviewing former Assistant Attorney General Barry Levenson's mustard collection. I kid you not. In Blackfoot, Idaho you'll find (rather expectedly) The Potato Museum. If you're ever up North, in Haines, Alaska to be exact, be sure to stop by The Hammer Museum. Which I'm guessing is best appreciated before visiting The Nail Museum, assuming one exists.

Eastern, Ohio is home to a number of worthwhile museums. Click on the links below for hours and pricing.

The Cleveland Museum of Art- You might not believe this but the Cleveland Museum of Art is home to one of the largest collections of Egyptian art in the world. No matter what period, culture, or style of art you personally revere, the museum has something for you. Current exhibits include: A Splendid Land: Paintings from Royal Udaipur (Northwest India), Samson Young: Sonata for Smoke, and a new permanent collection on American textiles.

The Rock and Roll Hall of Fame- I must admit, I do have my problems with the induction process at the Rock Hall. For instance, why is it that some artists go in first ballot while the bands that inspired them can languish in nomination purgatory for decades? Best not to think too deeply about it. After all, it's still a blast. You'll be delighted by glamorous displays of some of Rock and Roll's most prominent figures, enjoy rotating features of singular bands or artistic movements, and learn way more than you ever thought you'd need to know about early pioneers like Little Richard, Robert Johnson, Buddy Holly, and Bill Haley.

The Christmas Story House- This one might be a little more specific but for anyone who's endured the seemingly 24-hour replay of the classic 1983 Bob Clark-directed A Christmas Story at any holiday season during their life, you'll understand the sights within. The house looks just like it did in 83', inside and out. You'll definitely want to check it out, especially in late fall or early winter.

The Cleveland Museum of Natural History- Ever wanted to explore Ohio in the Pleistocene? Take a trip to the moon? See what the world's endangered species would look like if Andy Warhol painted them? Then you need to head on over to the Cleveland Museum of Natural History! Still not sold? Okay, let me ask you the most important question. Do you like dinosaurs? Uh huh. Knew it!

Pro Football Hall of Fame- In Canton, OH, you'll find the Pro Football Hall of Fame, a temple of gridiron grandeur. Much like the Rock and Roll Hall of Fame, the major players in the history of the sport are eternally enshrined within the hall. In this case, you'll see busts of the various hall of famers and timelines of their career. For sport fans who like stats, dates, and… golden heads… you'll be in your glory.

The Great Lakes Science Center- Whether your scientific interests lie in physics, electronics, paleontology, or more, the museum has you covered. From now until September, 4th you can explore their collection of African dinosaurs in an exhibit called, "Dinosaurs of the Sahara." You'll even get to touch a Supercroc skull! Don't worry, it doesn't bite… anymore. There's also the NASA Glen Visitor Center which gives guests an interactive look at noted space missions as well as a plethora of memorabilia.

The Buckland Museum of Witchcraft and Magick- This museum is for a very select but curious group of people. The same ones who know that 'magick' is not misspelled in the name of the museum. Visitors will get a glimpse of occultic memorabilia from noted practitioners like Aleister Crowley, Gerald Gardner, and Marie Laveau (The Voodoo Queen of New Orleans). The collection of items all belonged to the late Raymond Buckland who was a noted authority on the subject and spent over 50 years acquiring the esoteric antiquities. A fun visit, especially around Halloween time.

Troll Hole Museum- In Alliance, OH, you'll find the Troll Hole Museum. It contains the world's largest collection of trolls. No, not real trolls. The kind like in that Trolls movie your kids have watched on repeat over and over. Still can't get that admittedly-infectious Justin Timberlake song out of my head. "Can't stop the feeliiiiiiiiinnnn!" Anyway, as far as the museum goes, it's a whacky good time, just off the beaten troll path.

The Cleveland Museum of Contemporary Art- This museum leans more on the modern art scene with rotating exhibitions dedicated to some of the most ambitious and groundbreaking artists working today. Current exhibits include: A Soft Place to Land (textile art) and Nina Chanel Abney's Cafeteria 2.

The Children's Museum of Cleveland- This is a fantastic place to take the little ones. The Adventure City exhibit is setup just like a contemporary city, only downsized for the kiddos, with all the amenities. The Wonder Lab is something of a water world (not to be confused with the notoriously awful Kevin Costner flop) that allows kids to examine the science of whirlpools, jets, bubbles, and rivers. There's also a theater for the burgeoning singer, actor, costume designer or dancer in the family.

Of course, there are even more museums than the ones listed above but we hoped to present a good mixture of the usual suspects as well as more niche and lesser celebrated attractions. No matter what you do, don't resist the urge to have fun at any of these great establishments in Northeastern, OH!