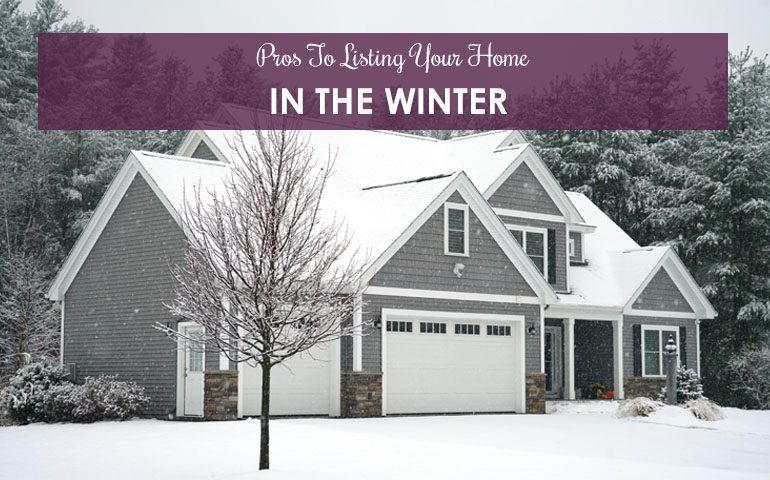 Pros To Listing Your Home In The Winter
The weather outside might be cold, but that is no reason for home sellers to think their potential for selling during winter can't be hot. In fact, there are certain perks to listing your home in winter that spring and summer sellers simply don't get to enjoy. Want to know more? Check out our 5 pros to listing your home this winter.
Less Competition
Because many people believe that spring is the best time to sell a home, there are many more homes for sale during warmer months. If you are listing a home in winter, know that you'll face less competition when it comes to similar homes for sale. It is easier to make your home stand out when fewer homes are listed on the market.
Serious Buyers
Because of an increased inventory in spring—and for various other reasons including warmer temps and pure curiosity—the warm weather market brings out buyers who could be less than serious. If you're listing a home during colder, winter months, you can be sure that buyers who trek through snow and slush are serious about the possibilities your home provides. In fact, some companies might be looking to promote or relocate employees to new locations before the end of the year. For sellers, this means more motivated buyers in the market!
Easier Curb Appeal
Despite the possibilities of snow and ice during winter months, curb appeal is generally easier to maintain when you list your home in colder seasons. During the summer, mowing and pruning must be done routinely to keep your home's outdoor appearance in top condition. When you list in the fall or winter, you can take those tasks off your maintenance list.
Beautiful Background
Not only can you put tasks like mowing and weeding out of your mind during winter months, but you also might be able to rely on Mother Nature to add some natural beauty to your listing. A fresh blanket of snow can be enchanting—it also can hide things like a small, uneven backyard. If your home is lacking outdoor space or other amenities that might attract buyers, winter weather may distract them from noticing some not-so-appealing features
.
Energy Efficiency
On the opposite end of the spectrum, you can also rely on winter weather to help you showcase some of your home's features too. During the winter season, buyers are not only looking for the number of bedrooms they desire, but they also want a home that feels warm and welcoming. Cold winter days can allow you to set indoor temperatures to be nice and cozy for when buyers are touring through. Further, enhance the ambiance if your home has a fireplace. Finally, make sure your windows and doors are sealed so winter's cold stays outside while buyers are looking inside your home. A warm, efficient home can be very attractive to buyers during winter.
Ready to list your home, but not sure how to capitalize on these cold weather months? We can help. Contact a professional at Berkshire Hathaway HomeServices Stouffer Realty and warm up to a winter sale today!