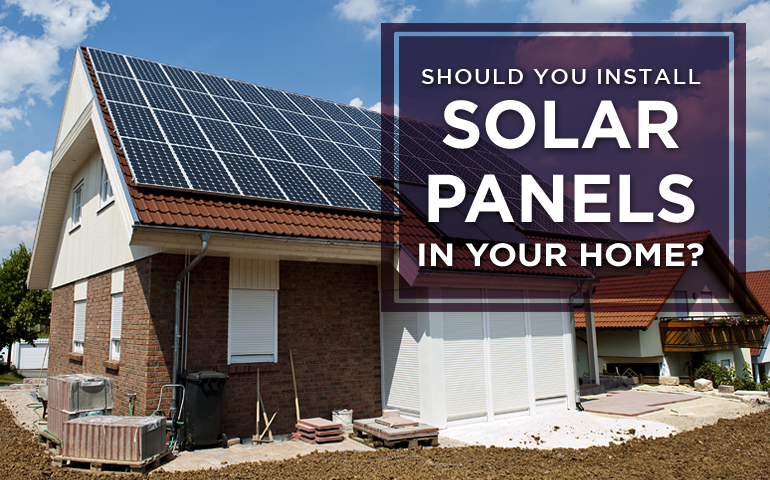 Should You Install Solar Panels In Your Home?
There are many reasons why homeowners go solar, but improving the environment and cutting energy costs are the most common. Many people are aware that solar is a great home efficiency upgrade and are eager to reduce their carbon footprint while also improving property value.
Good for the Environment
Solar energy is known for representing a clean, green source of energy, and it is a great way to reduce your carbon footprint. There's nothing about solar power that pollutes mother nature. Solar power doesn't release any greenhouse gasses, and only needs a source of clean energy to function.
Free Source of Energy
Have you noticed that your electricity bills have been higher than normal? Solar panels might be a good option for you. Your solar power system will start saving money from the moment it's turned on, however, the advantages of solar power are best visible in the long-term. The longer you have your solar power system, the more you enjoy the benefits all while doing your part to help the environment at the same time!
Increase Property Value
Investing in solar energy will not only save you month-to-month on your electric bill, but it could also increase the property value of your home. A study by the National Bureau of Economic Research found that in California, PV systems added a $20,194 premium to the sales price of homes. Though solar can be expensive to install, the return on investment is approximately 97%, not including the savings associated with reduced energy bills.
If you have been thinking about installing solar panels, now is the time. Solar Panels are a functional upgrade and whether you are simply trying to save money on your energy bills or make a positive impact on the environment, installing solar panels is a great project that is sure to pay off!
Have you heard about our New Neighbor Program? Berkshire Hathaway HomeServices Stouffer Realty Services can offer its clients exclusive discounts from area vendors, including IGS Energy, through our New Neighbor Program. Want to know more? Ask your real estate agent for more information!
Berkshire Hathaway HomeServices does not endorse any of the products or vendors referenced on this material. Any mention of vendors, products, or services are for informational purposes only.