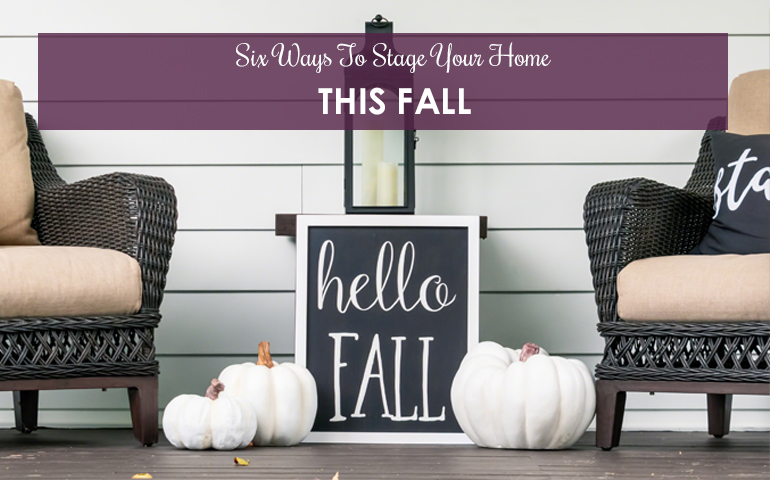 Six Ways To Stage Your Home This Fall
It pretty much goes without saying that fall is a great time to sell a home. But, did you know that this crisp, cool season also offers an excellent opportunity for sellers to capitalize on some of fall's bright colors and warm scents to bring in prospective buyers?
Here are a few tips for sellers who want to highlight the season in their homes this fall:

1. Start Outside
There may be nothing more beautiful than seeing the bright hues of autumn as trees turn brilliant shades of red, yellow, orange, and more. But, those hues only hold their allure when they're still on the trees! Keeping curb appeal at the top of the priority list when your home is on the market in the fall is a must! Rake fallen leaves from your yard, driveway, and sidewalks so prospective buyers can see your home and its exterior features. Let Mother Nature provide that outdoor beauty in fall, just don't allow it to be littered through your yard!

2. Bring Foliage Inside
While you're outside making sure your curb appeal is at a max ts fall, don't be afraid to bring some of those natural hues inside. Strategically placing some fresh mums around your home or a bowl of apples in your kitchen may help prospective buyers warm up to the thought of spending the holiday season in your home. Instead of bagging all those raked leaves, you could save a few to create a fresh fall vase while your home is on the market!

3. Give Fall's Colors a Fresh Backdrop
No matter what season a seller chooses to list their home, applying a fresh coat of paint is always advisable. But, this certainly is the case in the fall. Bright fall foliage stands out impeccably against warm, neutral tones and any buyer would be thrilled to see a blank palette where they can add their style. So, if you're listing your home this season, consider applying a soft tan tone to the walls and accent away with fall's bold color scheme!

4. Shed Some Light on Your Work
After you've applied fresh paint and accented it with bright fall foliage, make sure prospective buyers can see the fruits of your labor! Shorter days in fall equal less natural light to show off your home. So, proper lighting throughout your home is a must. From listing photos to showings and open houses, ensure you're adequately lighting your home indoors and outside while it's on the market this fall.

5. Bring on the Heat
Who doesn't love to sit around a warm fireplace when the weather outside gets a little cooler? If you've got a fireplace in your home, allow it to set the ambiance for prospective buyers. No, you don't have to build a fire every time you know buyers will be touring through; frankly, that may not even be the safest idea. But, you can better stage your fireplace by making it a focal point. Arrange furniture around the fireplace or highlight it with battery-operated candles or fireplace logs. Allow prospective buyers to envision themselves warming up by the fire on cool fall nights.

6. Showcase the Scents of the Season
What would the fall season be without fresh apple cider or pumpkin-spiced anything?! You certainly don't want any strong scents to overpower your home as buyers are touring through, but keeping freshly-warmed apple cider on-hand for buyers may be the final touch that seals the deal for your home sale this season! Consider topping off your seasonal staging efforts by letting mild autumn scents fill your home this fall.