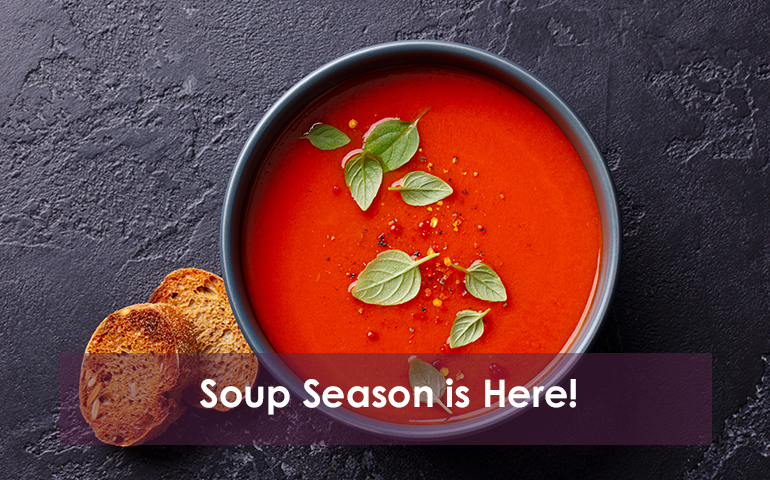 Soup Season is Here!
Go ahead, laugh it up, sun worshipers. You know and I know, these 70-degree days won't be able to hold out much longer. If there's one thing about cold weather, I think we can all agree on, it's soup. I guess there are dissenters out there somewhere. An old friend of mine once broke up with a girl who told him she didn't like soup. "How can you unilaterally declare you hate soup? There are so many different types," he complained. If you think about it, as borderline sociopathic as his reaction might seem, it's hard to argue with his logic.

First, what is soup? Silly question, right? No. You see, like anything else, the word soup has a lot of preconceived notions attached to it. Soup does NOT need to be warm for instance. Ever hear of a Gazpacho? Gazpacho is an Iberian cold soup, made from ingredients like onions, tomatoes, olive oil, veggie or meat-based stock, peppers, vinegar, bread bits, and salt. It's most commonly associated with Spanish and Portuguese cuisines. Also, hate to tell you, but stew is most certainly a soup. While some pedantic culinary connoisseurs might argue, "Soup has more liquid," the ingredients and preparation are often indistinguishable. This also places chili firmly in soup territory and you're not allowed to argue about it. Unless you're from Texas. They really take chili seriously down there.

Soup is usually, but not always (see the rant on Gazpacho) a warm liquidy (some being less than others) meal composed of culinary stock, vegetables, often times meats, herbs and spices. Sometimes cream. Come to think about it, trying to define soup is a little challenging. Can we just agree that if it isn't solid, individually prepared food, served on a plate, it probably falls somewhere in soup territory?

Now that we have that out of the way, here are some common soup variations and a link to a tested recipe, scoured from the internet.


Roasted Butternut Squash Soup

A co-worker recently made this one for one of our many enjoyable birthday luncheons and I was blown away. I had attempted a squash soup on many occasions but this one is the perfect balance of flavors. There's a noticeable trifecta of goodness derived from cinnamon, nutmeg, and the inherent sweetness of the gourd itself. Add a pinch of cayenne to bring just the right volume of heat to this rich, creamy, delightful bowl of joy.

Click here for the recipe.

New England Clam Chowder

For a taste of New England, look no further than one of the region's most iconic cold weather concoctions, clam chowder. A case of less is more, you can accomplish a delicious chowder in short order with very common pantry ingredients. The only outlier here is the clam juice. Some people insist on using fresh cold-water clams for the authentic experience but if you're crunched for time or simply don't have the patience for the endeavor, canned clams work just fine!

Click here for the recipe.

Hot and Sour Soup

One of my favorite appetizers at a Chinese restaurant is Hot and Sour Soup, a kind of catch-all soup incorporating ingredients such as culinary stock (usually chicken or pork this side of the Atlantic), wood ear or shiitake mushrooms, bamboo shoots, sesame oil, vinegar, egg, cornstarch, and scraps of tofu. The "everything but the kitchen sink" approach to the soup allows for an unparalleled blending of delicious flavors you won't soon forget. Of the recipes I've attempted, the below listed is the best. Of course, that all comes down to personal preference so feel free to make substitutions and additions to get the flavors you're looking for.

Click here for the recipe.

Vietnamese Pho

Often regarded as Vietnam's Signature or National Dish, a delightful bowl of warm pho is the perfect complement to a frigid winter evening. Pho is usually constructed from a beef broth base and most recipes suggest making your own. It's more time consuming but worth it for the incomparable homemade flavor. Pho also incorporates rice noodles, tender shavings of beef, hot chilis, and a blending of sweet and savory flavors like cardamom, star anise, lime, coriander, cinnamon, and cloves. Don't skimp on the fish sauce! Visit your local East Asian grocer for the real deal.

Click here for the recipe.

Tomato Soup

Is there anything more evocative of adolescent rainy days than tomato soup and grilled cheese? It's one of the all-time great pairings. Right up there with mac n' cheese, biscuits and gravy, and peanut butter and jelly. The best tomato soups will have a creamy texture with the right fusion of spicy and tart flavors to offset the natural acidity of the tomatoes. This recipe calls for a splash of honey instead of white granulated sugar. The right call if I do say so! For extra decadence, try a pesto styled topping of sundried tomatoes, olive oil, toasted pine nuts and chilis.

Click here for the recipe.

Chickpea Chili

If you've ever had a side bowl of this at regional Tex-Mex chain, Mad Mex, you've probably already Googled the recipe and came up short. Luckily, some internet sleuths with sharp palates have devised suitable copycat recipes to tide us over until our next visit. This is the best one. The soup uses precious few ingredients to create a pot of goodness, bursting with Southwestern flavor.

Click here for the recipe.

Coconut Chicken Curry Soup

It's all there in the title. This is an Indian-style chicken soup, imbued with an empyrean blend of hot, sweet, salty, and creamy flavors and textures. This recipe uses a yellow curry powder but I'm sure red or green curry powder can be substituted to spice things up. Pun intended.

Click here for the recipe.

Miso Soup

Miso soup makes use of a smattering of homey root vegetables like carrots, potatoes, onions, turnips, taro roots, and radishes. Plus, leafy greens, mushrooms, tofu, and, the most crucial component, seaweed. Opt for somen noodles like the below recipe to capture the most authentic Japanese flavors.

Click here for the recipe.

Classic Borscht

For a hearty Eastern-European gastronomic experience, give this recipe for Ukrainian borscht a go. Beets can be a love em' or hate em' ingredient. Some say they taste too "Earthy," while others will indulge their cravings with a whole jar of pickled beet balls they scored at their local farmer's market. No matter where you stand, this recipe for the traditionally cold beet soup sounds nothing short of delicious.

Click here for the recipe.

Rotisserie Chicken Chili

As far as comfy, familiar flavors go, few things are as rewarding as chicken soup. Except maybe chili. So, it stands to reason that this recipe for chicken chili has to be a winner! Uniquely, the recipe calls for the use of pre-cooked rotisserie chicken and masa harina. If you're asking, "What is masa harina," well, it's a dried corn doe you can find in the specialty flour isle of your local grocery store. If you're concerned you'll never be able to use enough of it to justify the individual purchase, I'm told you can create a comparable ingredient at home by grinding up a handful of tortilla chips in your food processor. The rest of the ingredients are fairly standard for a routine chili but the added textures, as well as the welcome substitutions (like pinto in place of kidney beans), make for an original and wholly delicious combo.

Click here for the recipe.