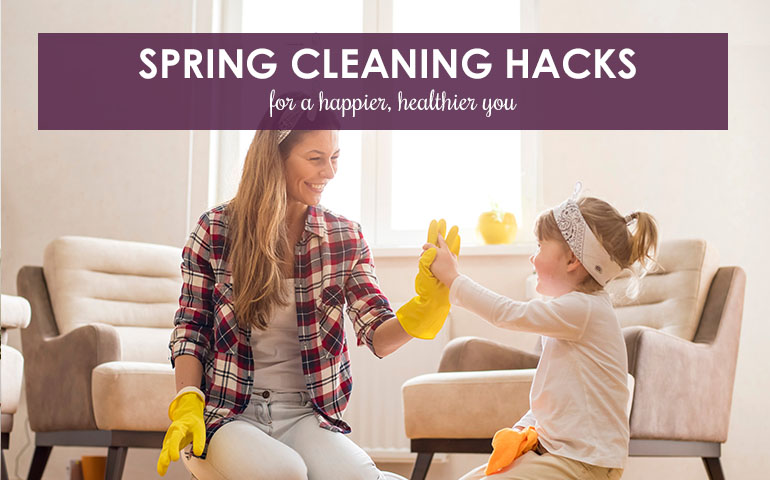 Spring Cleaning Hacks for a Happier, Healthier You
We all know that eating right and exercising is good for us, but did you know that spring cleaning is good for you? Especially with the extra time on your hands now, it's a great time to clean and refresh those areas of your home that tend to be forgotten! With these few hacks, you can spring clean your home and keep the germs away all in one afternoon.
Clean Your Closet
If you are like most people, the closet is one of those places that commonly gets ignored. Clothes get thrown around, you keep things you don't need, and it is cluttered. Now is the perfect time to clean out your closet and get it ready for the spring season.
Take everything out – Yep! Everything! The goal is to only put back what you truly want

Divide every last thing into three piles marked keep, donate and toss out

Keep the basics – those pieces that fit well and you wear often

Donate good, usable clothing that you don't wear. Charitable organizations like Goodwill or The Salvation Army are always happy to accept gently used pieces

Toss out items that are worn out, damaged or stained

Put your keep pile neatly back into your closet
Clean Out The Fridge
Refrigerators are just one of those not-so-frequently cleaned areas in your home. Really cleaning the fridge is more than just wiping down the shelves. You'll need to remove all the food. Be sure to pop it into a cooler to keep it chilled for a bit – especially the frozen foods. As you empty the fridge, check expiration dates and throw out any old condiments that you didn't know were expired. Once your fridge is empty, wipe down every surface with a food-safe cleaner. If you don't have one, you can make your own. Here is a quick homemade cleaner recipe. When your fridge is clean, return the foods to the fridge with the soonest expiration date in the front and the ones not likely to expire soon in the back.

Clean Your Pet's Belongings
If you're a pet parent, you can't forget your four-legged housemate. It's important for your pet's health that their bedding and toys are cleaned regularly. Have you seen what they drag their toys through? Here's how to clean all your pet's belongings:
Plush and soft toys

Your best bet is to put them into the washing machine, on a delicate cycle. Remember, before you toss any stuffed animals into the washing machine, make sure to first look for loose parts. If the toy has any open seams, stitch them back up. Even on gentle cycles, those loose parts can get opened up more or pulled off.

Hard toys

Get the loose dirt off by cleaning them with a damp cloth or brush. Then fill a bucket with one-part warm water and one part distilled white vinegar. Soak the toys for about half an hour. Rinse them off and they are ready to go.

Food and water bowls, and toys that get filled with food

These need to be cleaned daily. Warm water and dish soap will do the trick. If they're dishwasher safe, pop them in.

Bedding

Go over with a lint roller, or take outside and shake to get hair and dirt off. Then wash in your washing machine using all-natural, fragrance-free detergent. Use a little less detergent than you do for your own clothes.
Dust Everything
Dusting is one of those commonly forgotten cleaning tasks around the house. Now that we are in the height of allergy season, you will want to make sure to dust all of those areas that are usually neglected.
Use a Lint Roller on the lampshades

Lint rollers are perfect for removing dust and hair from material lampshades. They're also great for carpets and any surface that collects dust and hair that are hard for a vacuum to remove.
Use coffee filters to dust TV screens

TV screens are literally dust magnets. Dust is attracted to the electric charge they give off. And because washing your TV screen with any liquid cleaner can be damaging, coffee filters are the answer. They're sturdy, attract and hold dust, and are inexpensive.
Use a pillowcase to dust ceiling fans

You'll want to dust your ceiling fans often. All you have to do is take a pillowcase and put it over one blade at a time as if you were putting it on a pillow. As you gently pull the pillowcase off, the dust falls off the blade and into the pillowcase, and not onto your clean floor.
When it comes to spring cleaning, be realistic. Go at your own pace. It's not a race after all. Your reward will be an uncluttered, clean and healthy home for yourself, and a feeling of accomplishment and pride.