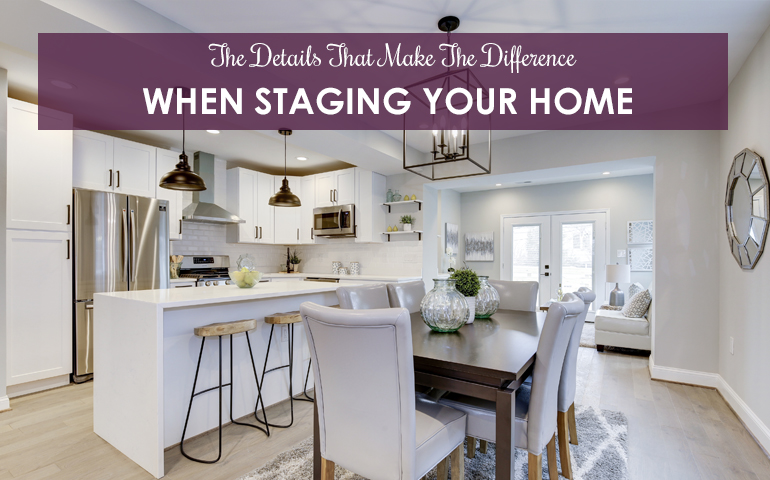 The Details That Make The Difference When Staging Your Home
The real estate market is hot right now. It's a seller's market in most of Ohio, making some home sellers complacent. The house is going to sell at a good price, right? Maybe so, but you can do some things to bring in even more profit.

Staging
Think of a Hollywood set decorator arranging a scene to look just right in a movie. That's the same concept applied to preparing a home for the market. You stage your home to make the best possible impression on potential buyers.
A survey of agents by the National Association of Realtors showed most Realtors believe proper staging can increase a home's value by up to 10 percent.
You can do the staging yourself or hire a professional. Fees vary, but plan on spending at least $2,000 to have a pro do it. Consider it an investment, since a professional stager knows which details will make a difference.

Landscaping
The first impression a potential buyer will get of your home is from the street, so your yard and garden must be tip-top.
Mow, trim, rake, weed, and prune away dead branches from trees and shrubs.

Put fresh mulch and flowers in your beds. Colorful blooms stand out.
If your time is scarce, hire a yard service while your home is on the market


Exterior
Repaint if the old coat is weather-dulled or chipped. At the very least, clean it thoroughly with a power sprayer.

Wash all windows and replace cracked or broken panes.

If your front door is worn or dated, replace it or paint it. Market studies show your door makes a huge impact on buyers. The same is true of garage doors, especially if they face the street.

Repair or replace cracked walkways and driveways.


Interior
De-clutter! Yes, that's become a buzzword, but it pays off. Potential buyers are not interested in looking at your things. They want to imagine the house with their things. Put away the family photos and move out the comfy, but worn-out recliner. Store away excess furnishings and knick-knacks. The buyer wants to see the space, not your stuff.

Keep your rooms open and spacious.

Rent a storage unit for the excess stuff. You'll be packing it up when your house sells anyway.

Clean thoroughly. That includes walls, woodwork, sinks, toilets, etc. Apply fresh paint if needed. Go with a neutral color on walls because a would-be buyer may not share your taste.

Keep things neat for showing. Unmade beds, dirty dishes, and clothes on the floor are an absolute turn-off.
When your home is sparkling and bedazzling, take one last step – a very important one. Get a professional photographer/videographer to take pictures of it. Most people do their initial home shopping online. In fact, virtually all millennials house hunt on the internet. They're the biggest house-buying demographic. Pictures are going to make the first impression of your house, so you want it to look great.
Photos, videos, virtual tours, and even aerial pictures from drones are becoming standard home-selling tools. In really hot markets, out-of-town buyers are making offers based on pictures alone!
Your real estate agent may offer these services or can certainly help you find a pro who can do the job.
How much time, effort, and money you want to spend in staging your home is up to you, but in the end, it will pay off when you get that check!
Written by Brianna Atkins: Brianna Atkins is a writer, home stager, and designer in love with soft fabrics, hardscapes, and modern touches.