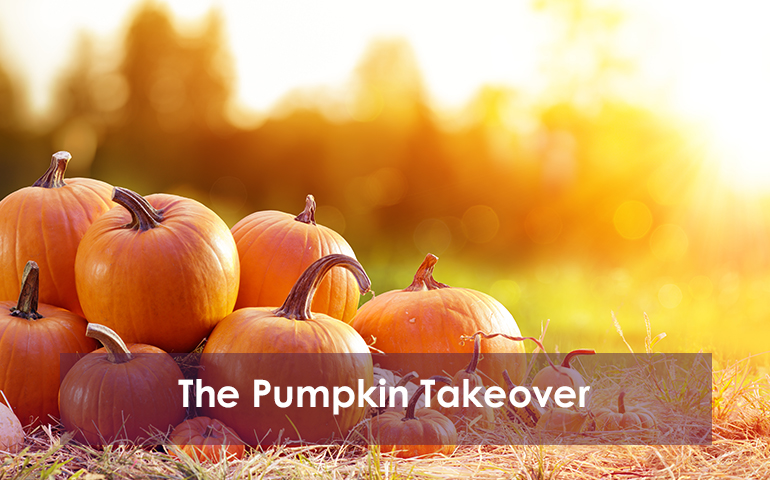 The Pumpkin Takeover
Is there any singular item more indicative of the Fall season than a pumpkin? When it comes to Fall décor, from mid-September to late November, pumpkins reign supreme. Their staying power has to, in some small part, boil down to their simplicity. Sure, you can carve a face into one or paint it but it's far from necessary.

Pumpkins come in all shapes, sizes and colors, allowing them to blend in with a variety of decorating styles, from the rustic to the garish and everywhere in between. Of course, you won't just find these beloved gourds on porch steps and Halloween displays, they've also become a culinary staple, launching an annual debate about how much pumpkin is too much pumpkin.

A casual stroll through the aisles of your local supermarket will convince you that consumers would rather starve than eat anything that doesn't include pumpkin from Labor Day to Black Friday. This year alone, you'll find premade mixes for pumpkin cake, cookies, pie and pancakes, as well as pumpkin-spiced creamer, cereal, coffee, yogurt, sandwich bread, soup, cream cheese and ice cream. My editor just recently prepared a pot of pumpkin mac n' cheese and I spent the entire day cursing her under my breath for not bringing me some. It was a cruel denial.

So, how did pumpkins invade our collective consciousness? It's a long story and you'd be forgiven for just throwing your hands in the air now and saying, "I don't care." In case you do, read on!

You may have heard somewhere along the way that Halloween is derived from an ancient Gaelic Festival, called Samhain (pronounce Saw-Win). You also probably know that the Gaels hailed from Scotland and Ireland. So, it doesn't seem like a leap of faith to assume that pumpkins were somehow imbedded in those traditions and then brought to the new world. Wrong! You see, pumpkins are actually native to North America. Back in the land of the Gaels, Jack-O-Lanterns were carved into large turnips and rutabagas.

Pumpkins were a hugely important crop to the indigenous peoples of North America and evidence suggests they've been a steady part of the human diet for over 7,500 years. When Irish and Scottish immigrants began arriving on the shores of what became the United States of America, they carried with them the tradition of carving faces into root vegetables. This was called a Jack-O-Lantern, and references a bit of old folklore concerning a legendary Gaelic figure called "Stingy Jack." I can't say for sure but when they saw the first pumpkin they likely exclaimed, "Woohoo! Look at the size of that thing! I can reduce the likelihood that I'll lose a finger carving an inexplicable face into a vegetable!" I mean, can you imagine the difficulty of hollowing out a turnip?

Of course, if they referred to the pumpkin as the vegetable, they would be taxonomically incorrect. Pumpkins are, indeed, of the fruit variety. Furthermore, if we're being technical, pumpkins are a berry and every single part of the pumpkin is both edible and nutritious. If you need to know why pumpkins have become the dominant face of autumnal iconography, it's because they just play the game harder. They have way more utility than a cornucopia or a scarecrow. Newsflash people, crows are amongst the smartest vertebrates alive today. They're not frightened by your designer skinny jeans stuffed with straw.

Anyway, pumpkins may have originated in North America but their domination is global. In fact, the world's largest pumpkin festival takes place annually in the Gardens at Schloss Ludwigsburg, Germany. You don't have to travel to Germany to get in on the festivities, however. You can revere pumpkins in a patch much closer to home. Pumpkin Festivals are all the rage and they're a bloody good time for celebrators of all ages.

If you visit a festival near you, you're likely to encounter a picking event, a carving contest, culinary sampling, related arts and crafts, and my favorite tradition: pumpkin dropping. Yes, what better way to show appreciation for the many, some life-sustaining, uses of the humble pumpkin but to drop them from a crane on high and revel in their dramatic explosion on the pavement below.

If you want to keep the fun in your backyard, there's a time-honored tradition of pumpkin chunking, wherein people build catapults or cannons to dispose of their leftover pumpkins. In case you were wondering, the world record was set on September 9th, 2010, when a man launched a pumpkin from a pneumatic canon 5,545.43 feet, in Moab, Utah. The poor pumpkin didn't stand a chance.

So, I think we can settle the debate. Pumpkins deserve their glorious reputation. Whether you're drinking your pumpkin, eating it, carving it, making it the centerpiece of your display, or throwing it nearly a mile through the air to its certain doom, just have fun, okay?