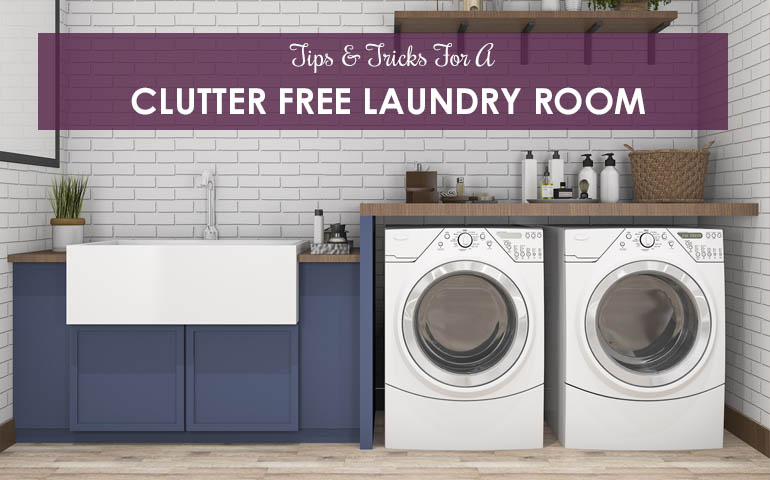 Tips and Tricks For A Clutter Free Laundry Room
Love it or hate it, but doing laundry is unavoidable. While there are many tips and tricks to make the weekly chore less tedious, we may be overlooking one of the things that influences our laundering life more than anything: the laundry room itself.
A laundry room that's organized runs smoothly and is pleasant to work in, both things that may entice us to quit avoiding the chore.
Don't know where to start when it comes to re-organizing? Check out some of our laundry room organization hacks below.
Add More Storage
Typically, the laundry room is one of the smallest rooms in the house, which means the lack of storage space may be concerning. In order to make the most of your small space consider purchasing storage containers to clean up the overall look of the room. Slim rolling carts, plastic bins, glass canisters and woven baskets can all be helpful for storing detergents, bleach, dryer sheets and other supplies. Storage containers are not only aesthetically pleasing but also remotely inexpensive! You can find storage containers at the Dollar Store, Walmart, Target, Amazon, ect.
Another great storage tip is hanging your ironing board to the back of your laundry room door or linen closet door. All you need is command hooks and you're good to go! No need to worry about your ironing board taking up more space than it should!
Use A Dry Erase Board
If there are multiple people in your home doing laundry, it may be a good idea to hang a dry erase board on the wall to let everyone know whose clothing is in the washer and dryer. Your family will never fight over the washer or dryer again!
Hang Your Lint Holder
Laundry rooms don't always have the floor space to allow a traditional garbage can to fit nicely. But you definitely need a receptacle for lint and the odds and ends you may find in pockets. A wall-mounted storage container takes up zero room on the floor and isn't an eye sore!
Label Shelves Where You Store Your Linens
Once you get them folded, sheets and towels all start to look the same. And we all know the frustration of stretching out a sheet over the bed just to discover it's a size too small. Simple labels—printed from a label maker or DIY'd—keep things organized and maintains a place for everything, even when the sheet supply gets low.
Label All Storage Baskets
The storage baskets are definitely important, but be sure to label all of the baskets to keep things orderly. Things can get messy again quickly if it's not clear what goes where. Forestall the issue by adding labels.
Use A Wall Mounted Drying Rack
When it comes time to dry your delicates, traditional drying racks can take up your entire laundry room floor space. A wall-mounted drying rack doesn't take any room when folded up against the wall and pulls out just when you need it. You can find a wall mounted drying rack on Amazon or any home goods store.
Get Rid Of Everything That Shouldn't Be In There
This should be a no-brainer right? But you'd be surprised how many people use their laundry room as storage for other things. Are your kids dropping their dirty sports bags and shoes by the door? Do you have mounds of dog food stored away in the corner? See, there are plenty of things that can be moved out of sight to make your laundry room feel more organized. If these items must be stored in there, make use of cubbies or hidden storage containers to open up the room.