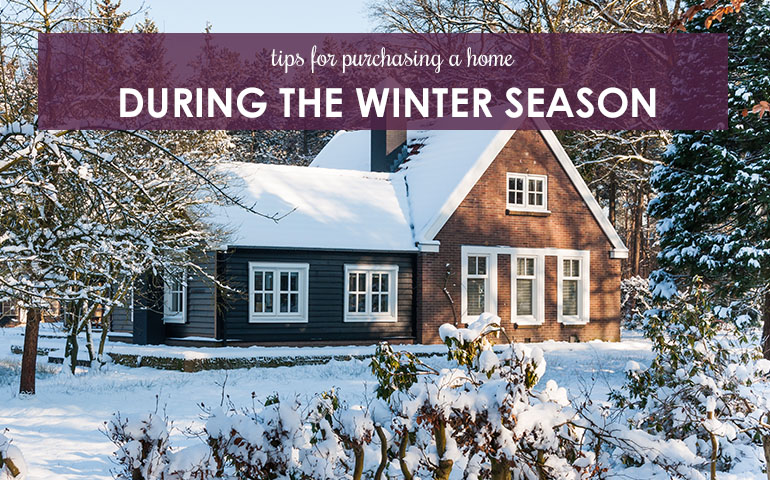 Tips for Purchasing a Home During the Winter Season
It's a common belief that spring and summer are the best months to purchase a home and real estate tends to slow in the winter months. While this is true, purchasing a home during the winter season is possible. There are many benefits to starting your home search when the weather turns cold. If you are ready to start your search, follow these tips to make the home search go as smoothly as possible!
Don't be discouraged by fewer homes on the market
There typically are more homes for sale during warmer seasons like spring and summer, but that does not mean a buyer cannot find the right home during winter. Inventory could be lower, but sellers have plenty of reasons to list during winter. So, the right home for a buyer absolutely could be available – even during the coldest season of the year.
Expect less competition during the home-buying process.
Just as there might be fewer homes for sale during winter, there are also typically fewer buyers looking for new homes. So, if you're a serious buyer, winter might be the perfect time for you to find the right home. What could be better than not having to face a bidding war on the home that you want? We can't think of many things when it comes to real estate!
Take advantage of lower listing prices
Not only do buyers usually find more motivated sellers during winter, but they also can find lower prices on the types of homes they're most interested in. Because competition is less during winter, home supply often exceeds buyer demand. For interested buyers, this can mean finding a great bargain on a home that would be a higher price during warmer months.
You might have a faster closing process
In the busy spring and summer months, your mortgage broker might be backed up days or even weeks, which is beyond frustrating when your closing is planned around your lender's schedule. If you are purchasing a home in the winter, chances are you will find it easier to go through the closing process. With fewer homes for sale and fewer people are applying for loans, you'll be in your new space sooner than you would be buying in the summer!
If you are ready to buy a home this winter, the next step is to find a real estate agent. To connect with a top-notch agent that specializes in finding dream homes, visit Berkshire Hathaway HomeServices Stouffer Realty to get started!