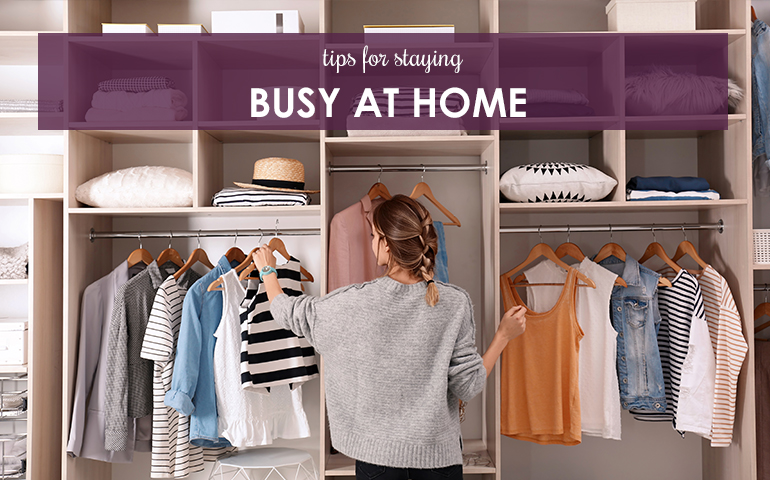 Tips For Staying Busy At Home
Social distancing might have you wondering how you will pass your time in the next few weeks. If you're not used to spending all of your time at home, whether you live alone or with a partner, a family or roommates, you might be feeling a little cabin fever. Don't worry, we have put together a list of how to stay busy with you in mind!
Organize the Room You've Put Off
Is your closet in need of a serious cleaning? Does your spare bedroom need a fresh coat of paint? Are your kitchen drawers hard to close? Now is the perfect time to organize those spaces in your home you have been putting off for months.
Take a Virtual Workout Class
Missing the gym? There are tons of places offering free online workout classes right now. You could even try one of those boutique fitness classes you've been dying to try! Peloton is offering a free 90-day trial to any users, without purchasing their bike or treadmill. Choose from bodyweight exercises, running and their famous spin classes to get your heart pumping! Orange Theory is offering daily workouts on their Youtube channel that can all be done from the comfort of your living room. [Solidcore] and Pure Barre are also offering versions of their Pilates-based workouts online. Don't forget about the Instagram Push Up Challenge to break a quick sweat!
Get Caught Up on Work
Have you been meaning to organize your inbox or start on that project? Maybe you have even thought about learning a new skill like photoshop or video editing skills. Adobe Photoshop is offering a free seven-day trial to anyone interested. Taking your time at home to learn a new skill or get caught up on work will not only help fill your time but leave you feeling less stressed when you do return to the office! Lynda is another great online learning resource that is offering a free month. Lynda offers thousands of courses from IT to Design.
Start Your Garden
It's almost April, which means flower shops are open for business (or pickup) and it's time to get your garden together! Spend the next sunny day in your yard picking weeds, and planting your flowers for the spring.
Pick Up A New Book
You've been saying you wish you had more time to read, there's no better time than now to curl up and read a good book. Check out the New York Post's recommended reading list here. If you have any good book suggestions feel free to share them with us on social media!
Walk Your Neighborhood
Just because you are social distancing doesn't mean you can't get outside for some fresh air! Make sure to set some time aside each day to get outside and go for a walk. Whether it is for 5 minutes or an hour, taking a break from the inside will help you feel better and be more productive. Make sure to get your furry friends out too!
This time spent at home can seem a little boring but make sure that you take the time to relax, refresh, and fill your schedule with some of our tips! Be sure to tag us on social media of how you are staying busy!