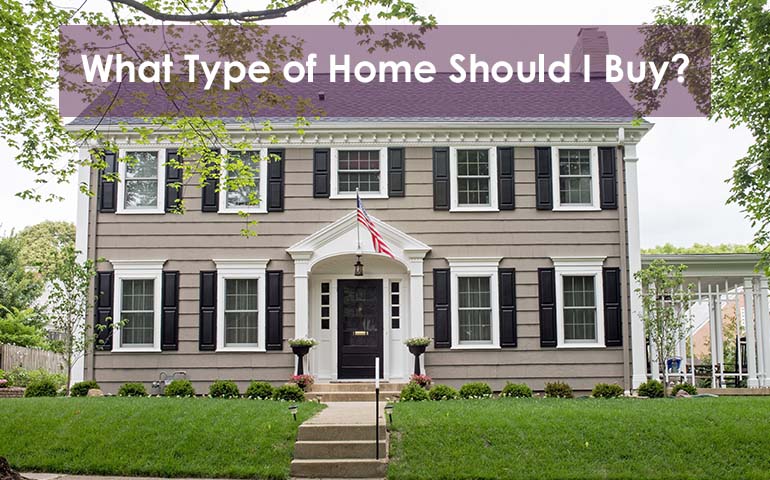 What Type of Home Should I Buy?
There's a lot to consider when buying a home. You've probably asked yourself a million questions already. What's in my budget? What will my annual tax bill look like? How far am I willing to commute? How are the schools? Of course, that's all incredibly important. Particularly if you think it might be your forever home.

The next question most people will ask, or should be asking, is what kind of home is right for me? Single family? Condominium? Townhouse? Chateau in the French countryside? So many questions! Over the next few paragraphs, we'll examine what types of residences, including the most common architectural styles, are available right now to you, the homebuyer.

First, let's tackle single-family homes. Single-family homes are usually defined as free standing or detached residential structures. There's some leeway there where properties can be seemingly attached but separated by a wall that extends the full vertical height of the home, roof excluded. As one can imagine, there's a lot of variety in single-family homes. Several are listed below.

Ranch
A ranch-style home is a single level home. They're most usually wider than they are tall. There are many reasons to prefer to single level living, including: you don't want to carry furniture upstairs, you have mobility concerns that make routine stair climbing inconvenient, and/or you prefer an open floor plan that allows you to flow from one end of the square footage to the other without ascending or descending stairs or other obstructions.

Cape Cod
Cape Cods also tend to be single level but not always. This style is most known for its rectangular structure with a side roof that sits lower than the main roof. They're also known for their compact design so don't expect vaulted ceilings or oversized rooms. Most rooms are built off a central point in the house, usually a fireplace.

Victorian
If you've always dreamed of a library with a sliding ladder, stained glass, a sharp roof, and sprawling gothic staircases, a Victorian might be for you. Named after the era of Queen Victoria, one can easily see high society types in waistcoats and corsets enjoying tea as they discuss the recent developments in the Jack the Ripper case. It's not uncommon to find remnants of past conveniences like dumbwaiters and large butler's pantries in these older homes.

Tudor
Tudor homes are most recognizable for the hand-hewn wood beams and cross beams set in masonry, stucco, or elaborate stone work on the exterior of the home. In other words, exposed framing. These homes were very common in the late 19th and early 20th centuries.

Colonial
Colonial homes are about symmetry. They can be made of wood, stone, or brick and feature windows and doors of uniform measurement. Often the windows are accented by shutters and the front door is placed at the center of the home.

Contemporary
Contemporary homes can borrow the best features of older styles but prioritize minimalism. They're less flashy and thus are often unfairly labeled boring or "cookie cutter." The fact of the matter is, contemporary homes are some of the most level, symmetrical, and customizable homes available on the current market.

Farm House
It's exactly what you think it is. The exterior of the home can borrow from any of the above styles but the interior showcases a more rustic, rural, or woodsy style. Imagine exposed wood, low-hanging metal light fixtures, screen doors, and light Earthy color schemes that incorporate brown, grey, off-white, and muted yellows.

Villa
Villa style homes borrow from Spanish, French, and Mediterranean structural styles. They are often secluded or tree-shaded, almost always have a large patio or private courtyard, and roofs that overhang the main structure of the home.

Okay, so maybe you're sold on homeownership but you hate cutting the grass and you generally prefer a lower maintenance lifestyle. A townhome or condo could be for you! Townhomes generally accumulate their square footage vertically. Which is to say, each level is smaller in scale but if you combined the space found across levels, you'd rival that of a detached single-family home. Townhomes can often be found in rows of multiple units in cities and suburban neighborhoods. Condominiums are large, independently owned home units connected to a much larger complex or structure. Both townhomes and condos, because of their close proximity to other units, usually have limited yard or landscaping space. Which, for some is a bonus.

What about a good old-fashioned apartment? If you're not ready to buy or accept the responsibility of upkeep that comes with a single-family style home, maybe you're better off renting for the time being. You likely won't need to worry about outside maintenance or fixing major issues like electrical, plumbing, or structural defects or damage. However, the tradeoff is the lack of ability to customize or renovate as you see fit. Some landlords prohibit painting walls, keeping pets, or playing music above a certain decibel limit. After all, they want to protect their investment.

Right now, is a great time to buy a home. Just do your research! Find the home that best suits your needs. For extra guidance, consult your local real estate professional.