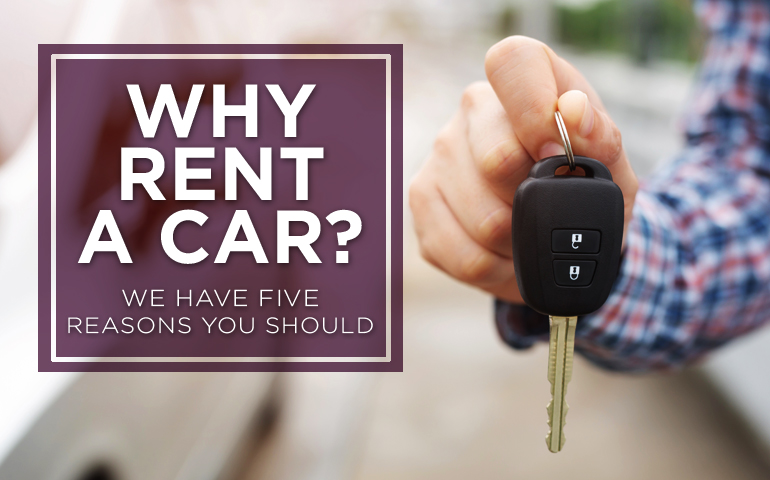 Why Rent a Car? We Have Four Reasons You Should
With popular car services such as Uber and Lyft, car rentals are often dismissed as too expensive. But they can actually save you money in certain situations, like when taking a trip. With the right planning, you may be able to save significantly by renting a car. Below are four times you should consider using a car rental service.
Visiting A New City
When you are vacationing in a new city, it might be a good idea to compare the cost of renting a car versus the price of using Uber or a taxi to get around. If you plan on exploring the city by car, it will be beneficial to rent a car upon arrival to your destination. You might even come across some great deals for tourists when you book a hotel or flight!
Need Extra Room For Luggage
Some of the busiest travel days of the year are around the holidays. Traveling for the holidays means extra luggage and gifts. Instead of trying to squeeze, you, your luggage, gifts, and any family or friends tagging along for the trip into a small car, consider renting a van or SUV! This time of year is the perfect time to rent a larger car and avoid spending an entire trip wishing you had more legroom.
Made a Big Purchase
We have talked about renting a car, but what about renting a truck? If you have just made a big purchase such as a couch or a TV, now is the right time to use a truck rental! Trucks will have a lot more room to haul your new purchase around and might even have towing capabilities. Renting a truck for one day might be cheaper than the delivery fee associated with your new purchase!
Special Occasion
For a special occasion, you might consider upgrading your car. If you are getting married and want to use a fancy exit car or it's your 50th birthday and you want to drive something fun, it is a perfect time to use a rental. In fact, renting a car occasionally throughout the year will save you money compared to purchasing a luxury automobile to use every day.
If you are looking for the perfect car for a special occasion or need a truck for a large purchase, considering a rental car service might be the right move for you. Next time you find yourself wishing for a different car, head over to your local car rental agency to solve your problems!
Have you heard about our New Neighbor Program? Berkshire Hathaway HomeServices Stouffer Realty Services can offer its clients exclusive discounts from area vendors, including Enterprise, through our New Neighbor Program. Want to know more? Ask your real estate agent for more information!